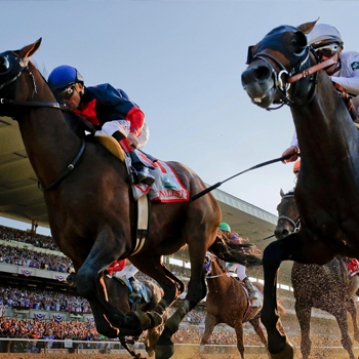 While recently perusing the local papers, I came across an item that caught my attention. Pompano Beach Harness Track's owners have put an application in with the state to change the nature of their business from harness racing (in place since 1964) to jai alai, a somewhat obscure sport played mostly in Florida and until recently, thought to be on the decline. The rationale is simple: building and running a jai alai fronton (where the sport is played) is cheaper to operate than a horse track where you need land and facilities to accommodate horses, staff and administrative personnel. If it happens, Florida would lose yet another facility which once housed the sport of kings, joining Hialeah Race Track and Calder Race Course, which have long since stopped hosting meets. Gulfstream Race Track would be the only venue to run live racing, but if you've been there you know horse racing is a decidedly underpublicized option for patrons. Between the promotion of the poker room, the shops, the restaurants and the shows, live racing is, to use a term of art, up the track in terms of popularity. But it's their business model, and so far, it appears to be working.
But it got me thinking: Why did horse racing in our state – and nationwide – decline in popularity? And what other sports used to capture our fancy but no longer do? In racing's case, the answer is clearer – the emergence of animal rights activists combined with the sometimes disappointing stories of animal abuse among the owners and trainers of horses lead to a lessening of its popularity. One need only look at the stories from Santa Anita Park in California, where no fewer than 30 horses have died during this meet, leading to a suspension of business. The reasons may vary, but to the sporting public it doesn't matter; when the centerpiece of your sport dies at an alarming rate, folks are not going to patronize it – period. Over the years, stories of drugging and overworking the animals also contributed to the problem, so people stay away as the bad publicity mounts. It should be noted however, the advent of offtrack betting has allowed the prize money to remain high; but as far as an in-person experience, a day at the races is now more a Marx Brothers meme rather than a sporting adventure.
And racing is not alone. Similar stories can be said of boxing (replaced by MMA/UFC demographically); golf, where course closings locally and the lack of compelling personalities nationally are contributing to its decline; even baseball has seen its popularity wane. Replaced by soccer, basketball and even such niche sports as lacrosse (formerly the province of Maryland and Long Island), which now attract more interest, especially among younger participants.
Don't get me wrong: the World Series is still going to be televised, as are the Triple Crown horse races. But don't be surprised in the near future if, as those sports decline in popularity, more events become a pay-per-view option rather than being offered over commercial television. As a smart man once said, the times, they are a changing; you would be wise to acknowledge this fact, or soon you may be as outdated as the sports you once loved.
Now, when is post time?