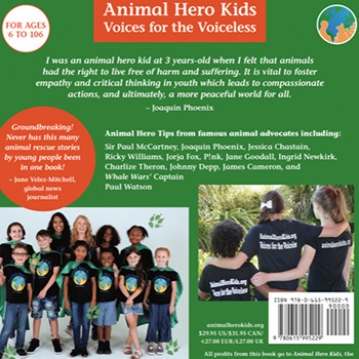 It's that time of year parents so look forward to after the summer holidays – a time of preparation, expectation and for some… trepidation. Making schools a safe place for our children and teens is an issue that's never far from most parents' minds. The public conversation continues, and the question still remains, "How do we ensure schools are safe and kind?'' A large part of the answer is in the heartwarming stories in the new version of the updated "Animal Hero Kids Voices for the Voiceless" book. The amazing examples of youth rescuing and advocating for other animals to be free from harm foster empathy, which is the building block of kindness.
In the 40 years I have been educating in schools about being kind, I am still impressed with the capacity for compassion I see in children; it's vital this kindness is encouraged and put into action, now more than ever. This is the core of the mission of the kindness education charity Animal Hero Kids.
Celebrities who are on board with the mission have contributed quotes in the book to cheer on the spark of regard and consideration which is the foundation of creating a safe school space. Paul McCartney has contributed an entire chapter, and discusses the day he decided to stop eating animals, when he was watching sheep play in a field in the United Kingdom.
"I was an animal hero kid at three years old when I realized other animals had the right to love, free of harm and suffering. It's vital to foster empathy and critical thinking in youth, which leads to compassionate actions, and ultimately, a more peaceful world to all."
– Joaquin Phoenix
The goal of the charity is to donate a copy of the book to every school library after each school presentation. To book a free program or support the book goal, please contact us at AnimalHerokids.org.