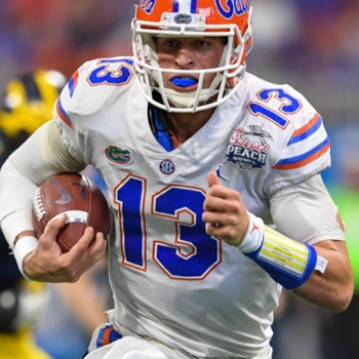 As is the tradition in these parts, the college football season kicks off the Fall schedule of events, and ushers in what my friend Dean used to call the "Social Season." But this year, there's a twist, as the college football poobahs (see ESPN and college presidents) decided September 1 (or more accurately, August 31) was just too long to wait, so they moved it up a week. Which means by the time you folks read this column, week one will have been largely completed. But we soldier on, so here are our crystal ball takes for the 2019 campaign.
Florida Gators: There's an old saying that says, "Leave 'em laughing, 'cause that's the last thing they'll remember." Well, with all due respect to that piece of wisdom, the same could be said for the 2019 version of Florida football. When last seen, they were pummeling a highly regarded (though depleted) Michigan team, a squad that had pounded UF the previous two times they'd played. Combine that effort with a previous win over in-state rival FSU, as well as the return of its veteran QB, Feleipe Franks, and expectations are that UF will equal, or improve on its 10-win season from 2018. But to borrow a phrase, not so fast. Gone are four-fifths of an offensive line that will be immediately tested by in-state rival Miami. Gone is Jordan Scarlett, who was a co-starter as the number one back. Gone from the defense are no less than six starters, including playmakers at both rush end and in the secondary. On offense, folks conveniently forget Franks was benched prior to his Lazarus-like revival during the South Carolina game and finishing the season on a high. Combine that with a schedule featuring several pre-season top 25 teams, as well as their traditional blood rivals, and 10 wins would be a major achievement. Prediction: 8-4

Miami Hurricanes: Since we're focused on clichés, another one states you never get a second chance to make a first impression, and new Head Coach Manny Diaz has made quite the impression. From his rah-rah introductory press conference, to his ability to utilize the new transfer rules, to his almost singular ability to instill in his squad the belief that they are special, Diaz is a rock star. Combine that enthusiasm with a front seven on defense which will be dominant, and a very favorable schedule featuring six of the first seven games at home, and UM's trajectory is pointing skyward. Their opener against hated rival Florida will provide the impetus for a bounceback season, so long as the offense finds a QB (watch for OSU transfer Tate Martell to win the job) and folks stay healthy on defense. Prediction: 10-2

Florida State Seminoles: As for FSU's chances, second-year Head Coach Willie Taggart has his hands full, both with a squad that underachieved last year, and a restless fan base. But FSU has two things going for it, as it tries to reclaim its mantle of relevance. First, it plays in the decidedly weaker ACC – though it has Clemson and Miami on its schedule, the rest of the slate looks manageable, if Taggart can find some team leaders. Secondly, recruiting is going very well, as FSU currently boasts the best 2020 class of all the Florida schools. Now it's still a climb, and Taggart still has to prove he can handle the demands that come with the expectations at a traditional football power, so the jury is out. Prediction: 7-5

Finally, we would be remiss if we didn't mention the passing of Dolphins Hall of Fame linebacker Nick Buoniconti. An accomplished attorney, agent and obviously, professional football player, his impact on our community would have been substantial with just those credits. But in 1985, after his son Marc was paralyzed from a football hit, Nick undertook his greatest challenge and arguably, produced his greatest achievement. In its 30-plus year history, The Miami Project he founded has raised millions of dollars in an effort to combat paralysis – forget football, this man was a humanitarian who made his community better. His loss is incalculable, and we can only hope the seeds of his efforts will someday yield the cure he wanted, not only for his son, but for all those similarly afflicted. Rest in peace to a great man.