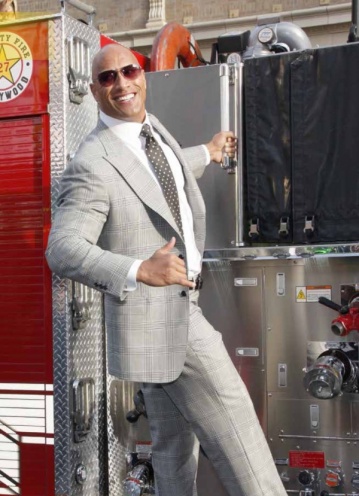 I've chosen to introduce you to Dwayne "The Rock" Johnson by inviting you into his personal and professional life.
Imagine, if you will, that you are sitting in one of the seats at the cinema, watching Johnson at 10 years old, watching his heroes on the silver screen. Indiana Jones and Clint Eastwood were definitely his biggest loves. He didn't necessarily have a plan to get to Hollywood but he knew what he loved. That was his driving force.
Today, Dwayne Johnson has passion and love for his family, friends and co-stars, and especially for his millions of fans. As a child he was a big fan of his heroes, and remembering those feelings, he now gives back to his fans by being real. He's a big guy who struggled to fit in and never felt like he did. When growing up, issues of confidence made him a very uncertain kid. He never felt comfortable in his own skin.
Both his father and grandfather were well-known wrestlers with the WWF (now the WWE). Johnson is the third generation in his family to garner success in that arena. His 17-year-old daughter Simone just announced her intention to enter wrestling and the WWE is excited to welcome her on board.
Dwayne Johnson stands at 6' 5" and had to fine tune himself many times throughout his life. When he shifted from his successful wrestling career to the Hollywood scene, he couldn't conform. He didn't fit in, and fairly soon, he realized he had to be true to himself. He had to stand out and stand tall. Hollywood accepted him as he was, and when he recently reflected on "Good Morning America" about his early days of success and fame, he told the hosts that he once tried to hide under baseball caps. "That was ridiculous," Johnson laughed. "Everyone said, 'There's The Rock under a baseball cap.'" So he took off his hat and stepped into the limelight. He's been shifting and shining ever since.
Personable, funny, sensitive, compassionate, honest, real… these are some of the qualities that are loved and admired about The Rock. He is a big lovable guy. Gal Gadot refers to her friend and co-star of the upcoming movie "Red Notice" this way: "Dwayne is someone who believes the sky is the limit and will go above and beyond to make sure he gives 100% every single day, whether he is at the gym, working with his charity (the Dwayne Johnson Rock Foundation), being with his family and friends, or working on a new project. He is the true embodiment of the idea that people may forget what you said, people may forget what you did, but people will never forget how you made them feel. Dwayne always makes sure people feel their best when he is around."
I want you to really get to know Dwayne "The Rock" Johnson, so I've included an excerpt from his recent toast to his fans, the "Ones in the Seats," at the TIME 100 Gala.
"So I was thinking, okay, well, who am I going to toast to? And, of course, I ran down the list. My first was to my much better half at home, my daughters, my family. And then I went down the list and I said, I want to toast to the ones in the seats. I'm half black and half Samoan, so trust me, my hair didn't know what to do. I used to sit in the seats and I used to watch my dad and I used to watch my grandfather. But at 10 years old, I still sat in the seats, and I watched my wrestling heroes, and I dreamed. And then every week, without a shadow of a doubt, every week on Saturdays I would go to the theaters, and I would watch my movie star heroes, in the seats. When Indiana Jones and 'The Raiders of the Lost Ark' hit, I thought, 'I want to be that guy, I want to be Indiana Jones.' And now I get to be the guy, so blessed and so lucky, that people all around the world will now go sit in the seats and watch me. I thought, 'Man, you know what?' "So I'm going to raise a glass. I think it happens for all of us, where it's – it's the fans, and it's the audience, and it's the people, and it's that human connection that we were talking about, a human connection when you're able to impact people. TIME magazine, thank you for putting me on the cover, I really appreciate it. And by the way, I've gone from that pimply kid to the cover of TIME Magazine, holy s**t, man. So the toast for me of the night goes to the ones in the seats. Thank you guys so much."
Thank you Megan McCluskey of "Time Magazine" for transcribing this toast.
With more than 100 million followers across all his social media platforms, Johnson has had starring roles in blockbusters from the "Fast and Furious" franchise to "Skyscraper" and "Jumanji: Welcome to the Jungle." Those gave the actor "a chance to embrace everything that was very natural about him," his former wife, producer Dany Garcia says. Hollywood loves Dwayne Johnson and we do too. Looking forward to more exciting news on "The Rock."
As we open the curtains to the last few months of the year, embrace the shifts that happen for you in September and enjoy being in one of the seats of life!
See Dwayne Johnson currently starring in: Fast & Furious: Hobbs & Shaw in a theater near you.