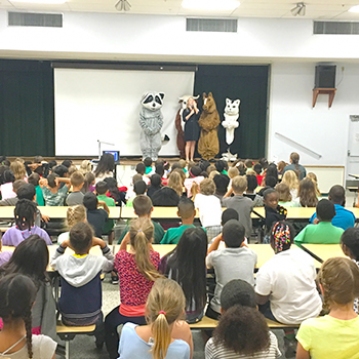 When I was in grade nine in Toronto, I asked my math teacher, "Why do we need to learn algebra?" to which he answered, "It helps you think." I answered "Why not learn about kindness instead, something useful we will use throughout our lives, and learn to think at the same time?" His reply was sending me to the office – again – for "undermining the teacher's authority."
Now here I am writing this for Happy Herald readers 47 years later, as I approach the largest gathering ever of kids and teens from all around North America, to unite and celebrate their kind actions.
I gave the first Animal Hero Kid Award 20 years ago to fifth-grader Sydale Clark, for his rescue of a bleeding mourning dove. In spite of his friends urging him to ignore the obvious dire need of the injured bird, Sydale knew exactly what to do, as I had given him an Animal Hero Kids card at his school's assembly.
Now today I am preparing to welcome to the November 2nd Animal Hero Kids Summit and Celebration in Fort Lauderdale, Florida, many of the kids and teens who are in the updated version of "Animal Hero Kids Voices for the Voiceless," the Skipping Stone Honor Awardwinning book I donate to every school library after each free kindness education program.
Traveling from Virginia is Josie, who convinced her family to stop at the side of the road when they saw a sign saying "Free Bacon," and discovered a small piglet in a cage.
Franny the pig is now a member of Josie's family. Zoe, arriving from California, directly rescues farmed animals from harm, and Hannah is an eloquent vegan teen flying in from Atlanta to tell others how to effectively speak to elected officials.
Compassionate and courageous young advocates are participating from Brooklyn, Maryland, North Carolina and Vancouver, British Columbia, and from all around Florida too.
An actress in Ice Cube's movie "Friday," Angela Means – owner of LA's Jackfruit Café – will be attending the evening Animal Hero Kids Celebration portion of the event. Beyond Meat is donating scrumptious vegan burgers for dinner. There are many surprises in store over the weekend. It is no random coincidence November is World Animal Hero Kids month.
Recognizing and supporting kind action by youth is way more fun than Algebra and easier, too!
If you wish to enjoy a heartwarming and hopeful event, check out animalherokids.org to see how to join, support and/or attend the Animal Hero Kids Summit and Celebration. If you know an Animal Hero Kid, teen, or a group of kind young people helping other animals, fill out the form on the Nominate tab on animalherokids.org.