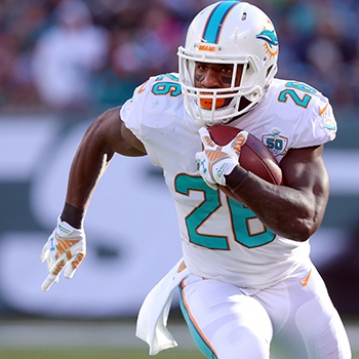 As is our custom this time of the year, we continue our pigskin preview, this time with a look at the state's professional football fortunes. I realize the season may be nearly a quarter over by the time you review this article, but it's still fun to predict the outcome for our respective teams. Unfortunately, fun may not be the watchword as the football gods seemed to have deserted us. As of this writing, all three teams are a combined 1-3, with the one win coming at the expense of a possibly stillinjured Cam Newton leading the Carolina Panthers team. In the NFL, it's a sprint, not a marathon, meaning a bad start dooms your season. But hope springs eternal, and who knows if the doubts of September can be replaced by the joys of December. Not likely you say? Well, only one way to find out. Let's begin.
MIAMI DOLPHINS: At the start of the year, most "experts" predicted the local team to be in the fight for the number one draft pick next spring. A new coach, Brian Flores, formerly the defensive coordinator at New England, and General Manager Chris Grier had engineered several trades, most involving the departure of veterans for draft choices. It was already looking bleak, with journeyman Ryan Fitzpatrick winning the QB job over newly imported youngster Josh Rosen; then, on the eve of the season, the Dolphins traded away their best offensive lineman, Laramy Tunsil, and their best wide receiver, Kenny Stills, to Houston for a bushel of future draft picks. On opening day, the Dolphins made Baltimore QB Lamar Jackson look like the second coming of Brett Favre, yielding five touchdown passes and over 300 yards in a little over three quarters of play. The 59-10 beatdown wasn't just ugly; it exposed rifts in the locker room to the point where good players, like safety Minkah Fitzpatrick, demanded to be traded. In fact, by the time you read this, he may be on another team. Combine a barely respectable NFL roster with a challenging schedule, which includes the defending champion Patriots twice, and you have a recipe for disaster. Many predict a winless season, but I'll go out on a limb and give the team some props, say 2-14. Now, Dolphans, can you learn to pronounce Tua Tagovailoa?
Jacksonville Jaguars: Moving up I-95 to our neighbors in Duval County, we find the Jaguars, brimming with optimism following the off-season acquisition of free agent QB Nick Foles. Foles, along with a salty defense which returned many of the same starters instrumental in their run to the AFC title game two years ago, had folks thinking the Jags could be trouble. Well, that thinking lasted exactly one week; or more precisely, one quarter of one week, which is when Foles was knocked out with a broken collarbone. Goodbye, savior, hello Gardner Minshew. Who? Exactly. While the unknown sixth round pick from Washington State presents some intrigue, it's doubtful NFL defensive coordinators won't eventually have an answer for the rookie. The Jags play in the AFC South, which lacks a dominant squad; a fair schedule keeps their playoff hopes alive, but just not quite enough to get them there. Prediction: 7-9.
Tampa Bay Buccaneers: If there is a bright spot, it would be in Tampa, where a Bucs team thought to be alsorans in the competitive NFC South has surprised some people with a plucky start. An opening home loss to the 49ers was quickly erased with a road win over division rival Carolina. Yet their fortune is tied directly to QB Jameis Winston, whose play over the last few years can only be described as erratic. There are offensive weapons to draw upon: wideouts Mike Evans and Chris Godwin, and running back Peyton Barber are players with decent skills; a tough defense gives them a chance in every game. But the NFC South houses powerful New Orleans and pesky Atlanta; even with Carolina trending downward, the Bucs will have their hands full. Prediction: 8-8.
Not a very rosy picture, is it? Well, take heart fans, and just think: If your football team is a disappointment, hockey season is about to begin!