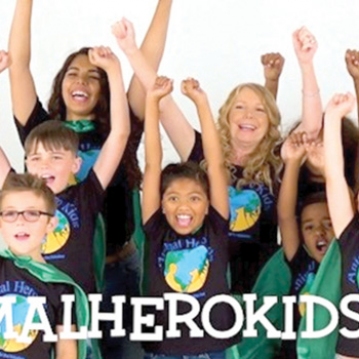 Here we are at 2020! As I reflect back on the awesome year of 2019, I marvel at the milestones and even more "firsts" my 40 years of dedicated work fighting for all species of animals have achieved.
Historical Firsts
First – Created the first series of Interactive Dramatizations for elementary schools where children become the characters in order to experience and problem solve the challenges other species of animals face. The free, interactive dramatizations are complete with costumes, backdrops and live music.
First – First person to immigrate into the U.S. under the "extraordinary ability" category visa proven to be the top in the field of humane education expertise, a category normally reserved for Olympians and scientists.
First – First to close down rodeos in Florida and Ontario after investigations and resulting media coverage from the protests I organized.
First – First Humane and Environmental resource kits designed specifically for high schools consisting of books, posters and videos donated to high school libraries after presentations.
First – First Canadian stockyards to close down after investigations and guerrilla street theatre and media attention put the public spotlight on the routine animal cruelty perpetrated there.
First – First Animal Hero Kids Awards to recognize compassionate action in youth.
First – Vegan fare activities in middle and high school family science classes and vegan hero sandwich-making programs for elementary school students.
First – First book written focusing on children and teens rescuing and advocating for all species of animals to be free from harm. The Skipping Stone Honor award-winning book is a culmination of 20 years presenting Animal Hero Kids awards and meeting remarkable kind kids. Classroom lessons, service learning projects and step-by-step guides to organizing protests, school clubs, and government change are included.
First – First female Vegan Super Hero character created for kids – the story can be read in the Animal Hero Kids book available at AnimalHerokids.org
2019 Firsts
First – First Animal Hero Kids Vegan MacnCheeze Challenge to Save the Earth. Seven South Florida restaurants competed with three separate judging panels consisting of Animal Hero Kids, plant-powered body builders and the audience choice panel. Mainstream news and social media coverage achieved reaching millions.
First – First seven statewide plantbased Impossible Whopper giveaways. 700 Whoppers distributed by Animal Hero Kids, the plant-based burgers were enjoyed by non-vegans across the United States and their taste reactions filmed. Mainstream newspaper coverage.
First – First Animal Hero Kids Kindness Education program presented at the first Florida plant-based school. Solid Rock Community School and Animal Hero Kids teamed up to create the first Animal Hero Kids school club.
First – First international trip with a mission. Ten Animal Hero Kids and their guardians and I were flown to London, England, thanks to the part nership with the folks with Million Dollar Vegan. Professional filming and stills were produced to release for the first American-focused launch of Million Dollar Vegans' goal of veganizing the USA. First MDV/ AHK large-scale advertising initiative including billboards, a full-page New York Times ad and building mural advertising in Florida, New York and Washington, with the face of the campaign being Animal Hero Kids. Millions reached with a set of videos and ads presenting inarguable reasoning to go vegan.
First – First Animal Hero Kids Summit. A record number of youth including parents were flown from around the United States and Canada to empower each other with their own practical, effective tools for change.
2020 Firsts – With Your Help!
First – The first Animal Hero Kids Hall of Fame opening of a self-sustaining destination, specifically designed for school field trips to empower youth to compassionate action by seeing and hearing the animal rescue stories in the "Animal Hero Kids Voices for the Voiceless" book and enjoying practical vegan fare activities.
First – Animal Hero Kids Documentary. An inspirational and heartwarming documentary showing the far-reaching effect of the lifesaving animal cruelty prevention work achieved. The positive effect for other animals in need will resound as others are empowered to reach their "animal hero" potential and multiply compassionate action.
First – National gifting of the "Animal Hero Kids Voices for the Voiceless" book to all school libraries.
Help and support is needed to reach these vital 2020 goals, join us by going to Animalherokids.org