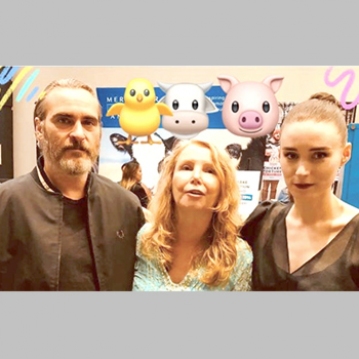 The Stars are Aligned
Has there ever been an Oscar acceptance speech like it? Is there any person anywhere who has been fighting for other animals not to be harmed that didn't roar a resounding ''yes!'' jubilantly from their living rooms when Joaquin Phoenix told the world stage the truth about stealing babies from cow mothers so we can sell their milk.
Lena Durham, the actor/creator/producer of the hit show "Girls" stated in a tweet, "Joaquin has finally made me go vegan."
To describe the recent truthtelling on air, and the wholehearted response to Joaquin's kind2all message I have created the phrase "the Joaquin Effect." If anyone wishes to use it, the royalty fee is one vegan donut, payable as soon as humanly possible.
The need to go plant-based for the planet, for the animals and for human health is a fact many stars are most definitely aligned on. Rooney Mara, Ellen DeGeneres, Portia de Rossi, Leonardo DiCaprio, Brad Pitt, Natalie Portman, James Cameron, Venus Williams, Woody Harrelson, Snoop Dog, Robert Downey Jr., Jessica Chastain, Moby, Billie Eilish and Lewis Hamilton are a sampling of the big names who have hopped aboard the Veganville train.
How kind it was of Joaquin Phoenix to give Animal Hero Kids his quote for the back of the "Animal Hero Kids Voices for the Voiceless" book.
"I was an Animal Hero Kids at three years old when I felt that animals had the right to live free of harm and suffering. It is vital to foster empathy and critical thinking in youth, which leads to compassionate actions, and ultimately, a more peaceful world for all."
Joaquin was referring to witnessing fish being killed when he and his family were on a boat – it horrified him. The entire family became vegan 40 years ago; at the time the word was relatively unknown. Fast forward to today – there's an explosion of marvelous, scrumptious vegan products, it's so easy to replace not subtract with kinder, healthier and more eco-friendly plant-based choices.
So Joaquin, and any of the celebs I mentioned who may be reading this: Help us shed the public spotlight on the goal of gifting the Animal Hero Kids book to every school library after each free kindness to all education program I present in schools.
Actually, as I write this an awesome idea comes to mind! How about some of those wonderful celebs I mentioned earlier choosing their favorite animal rescue story in the Animal Hero Kids book, and reading it for the audio version of the book, to add to the free, Animal Hero Kids education resources?
Let's celebrate Joaquin's recent Oscar, BAFTA, Golden Globe and SAG awards with a vegan recipe from the vegan kids recipe section of the Animal Hero Kids book.
Here's.....

Mother Nature's World Class Southern Chili. Mother Nature is one of the Animal Hero Kids free kindness education program storyteller characters. She may look familiar....