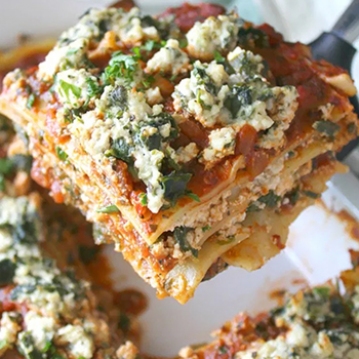 Everywhere you turn today, you see and hear about vegan and plant-based lifestyle choices.
If you've been wondering where to start, we are here to help.
Check out these recipes, do some online searching, take a few extra minutes in the market to explore all the new options and have fun while getting healthy!
---
The Best Vegan Lasagna
From: ThisSavoryVegan.com
Hearty layers of vegan ricotta, spinach and simple marinara sauce make this the Best Vegan Lasagna. A simple vegan dinner that is a great makeahead meal.
Prep Time 20 minutes
Cook Time 40 minutes
Resting Time 10 minutes

Total Time 1 hour

Servings 6
Ingredients
• 9 lasagna noodles

• 3 cups marinara sauce
• 8 oz. vegan ricotta - Kite Hill brand is great!
• 1/4 cup vegan parmesan (GoVeggie or Violife brand)

• 3/4 cup nondairy milk unsweetened
• 8 oz. frozen spinach thawed and drained
• 1 tsp. Italian seasoning

• salt and pepper

• fresh parsley for topping (optional)
Instructions
1. Preheat oven to 350 degrees.
2. Bring a large pot of water to a boil and cook lasagna noodles according to package instructions. Drain and rinse with cool water. Set aside until ready to use.
3. Add ricotta, parmesan, nondairy milk, spinach, Italian seasoning and a pinch of salt and pepper to a bowl. Stir until well combined - add more milk if you want a thinner consistency.
4. To assemble, spoon 1/2 cup of marinara sauce on the bottom of a 13 x 6 baking pan. Layer three lasagna noodles over the marinara and spoon 1/3 of the remaining marinara on top of the noodles followed by 1/3 of the ricotta mixture. Repeat layers - noodles, marinara, ricotta, noodles, marinara, ricotta.
5. Spray a piece of foil with nonstick spray and cover the lasagna. Place in the oven for 20 minutes. Remove the foil and cook for an additional 10 minutes.
6. For a crispier topping, turn the oven to broil, cook for an additional 2-5 minutes (or until desired browning is reached - be sure to keep an eye on it while the oven is on broil).
7. Remove the lasagna from the oven and allow to rest for 10 minutes. Slice into six pieces and serve.
---
Vegan No Bake Peanut Butter Energy Bites
From: beamingbanana.com
Ingredients
• 1 cup rolled oats
• 1/2 cup natural, sugar and oil-free peanut butter

• 12 pitted Medjool dates
Instructions
Add all the ingredients to a food processor and blend until totally mixed, about 5 minutes.
Use 1 tablespoon of the dough for each energy bite, and use clean hands to squeeze the dough together and carefully form a sphere. I like smaller bites that are easier to eat in one bite, since the texture is pretty soft and delicate.
Freeze the energy bites so that they can firm up, then store in the refrigerator or freezer.
Prep Time 10 mins
Total Time 10 mins
Servings: 20 energy bites
---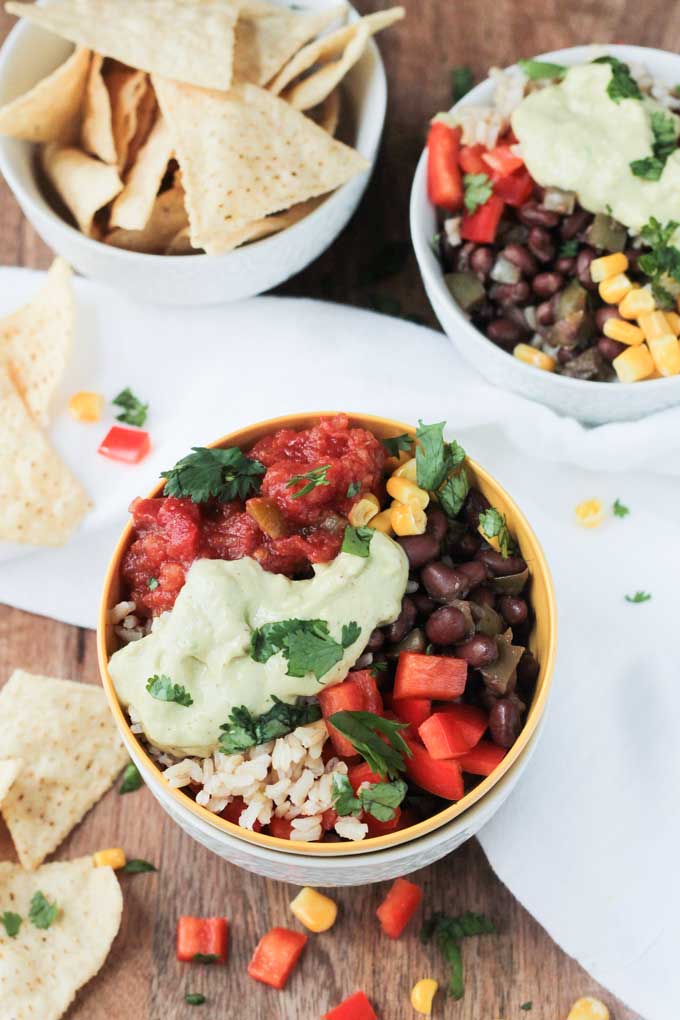 Super Simple Vegan Burrito Bowl
From: veggieinspired.com
This is your go-to dinner if you´ve got a busy schedule. It only takes 20 minutes or less.
Ingredients
For the Burrito Bowl

• 1 15 oz. can black beans
• 8 oz. frozen corn kernels

• 2 cups dry instant brown rice

• 12 oz. jar salsa (Trader Joe´s Salsa Authentica is great)

• 1 red bell pepper (diced)
• a handful of cilantro (chopped) Creamy Avocado Dressing
• 1 ripe avocado (mashed)

• 1/3 cup vegan sour cream

• 1 tbsp. lime juice

• 1 tsp. cumin

• 1/2 tsp. chili powder
• salt and pepper to taste

• 2-3 tbsp. nondairy milk to thin (if necessary)
Prep Time 5 Minutes
Cook Time 15 Minutes
Total Time 20 Minutes
Instructions
For the Creamy Avocado Dressing: Combine all ingredients, except the nondairy milk, in a small bowl and stir well to combine. Add 1 tbsp. nondairy milk at a time and stir until you reach your desired consistency. (I used 2 tbsp.) Set aside.
For the Burrito Bowls: Cook the instant rice according to package directions (this usually takes about 5 -10 minutes depending on brand). When the rice is done, add to the same pot as the black beans, corn and salsa. Cook over medium heat, stirring occasionally until heated through, about 5 minutes. Take off heat, add bell peppers and cilantro if using. Pour in Creamy Avocado Dressing and combine.
Serve with tortilla chips or over chopped Romaine lettuce.
Notes To save a few minutes, start the rice first and make your dressing while the rice is cooking, then finish the rest of the recipe. Or you can skip the avocado dressing and just add chopped avocado for an even easier prep-aration.
---
Crispy Crunchy Roasted Chickpeas
From: itdoesnttastelikechicken.com
Prep Time 5 mins

Cook Time 45 mins
Total Time 50 mins
Yield 4
The secret to getting them extra crispy is to dry roast them first, and then season them at the last minute. This is an easy to make, healthy, vegan, fiveingredient snack that everyone will love.
Ingredients
• 1 19 oz. can chickpeas, drained and rinsed

• 1 tbsp. olive oil

• 3/4 tsp. chili powder

• 1/2 tsp. dried thyme leaves
• 1/2 tsp. salt
Instructions
Preheat your oven to 375 degrees.
Spread the chickpeas in a single layer on a baking sheet. It´s okay if they are still a bit wet, they will dry out in the oven. Bake 30 minutes, stopping to shake the pan a few times. Remove the chickpeas from the oven and carefully add the hot chickpeas to a bowl along with the olive oil, chili powder, thyme and salt. Toss well to coat the chickpeas evenly. Spread the seasoned chickpeas back onto the baking sheet and return to the oven for another 10 to 15 minutes until they are golden and crispy. Remove from the oven and let cool a bit before enjoying. You can snack on them still warm, or completely cooled.
*Store in an airtight container in the fridge for about a week.