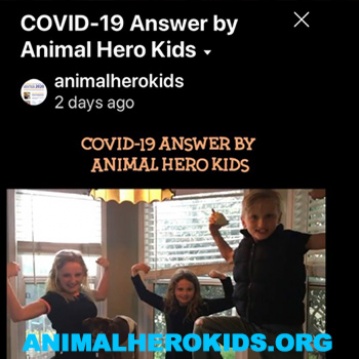 While we are all aware that our times are challenging – and my heart goes out to those who are ill and suffering loss at this time, or have their already difficult existence amplified – it's human nature, or shall I say my nature, to look for the silver lining.
Seven Benefits Discovered after a Search for Silver Linings

1. Thanks to self-nesting and kitchen stocking, there is more time to cook good vegan immuneboosting recipes. I created a roasted sweet potato, beet and ginger with curry meal in an iron pan that was tasty and full of nutrient-rich immune boosters.
2. Lovey and the cats think they are so fortunate. When I'm home, there is always Lovey on my knee and/or a cat on the back of my chair, periodically head-bumping the back of my head.
3. I finally have time to finish writing a new project and creating the e-book version of "Animal Hero Kids Voices for the Voiceless."
4. Mum gets a call every day, no matter what. Sometimes as we run around hither and yon, the day speeds by and no call is made, but this doesn't happen when you can't leave the house under threat of catching COVID-19.
5. You don't have to wear makeup, and can take the opportunity to deep-condition your hair and wear a homemade, vegan, Silk yogurt moisture mask all day. Yes, if you live with other people they may get a fright, but the companion animals love you anyway.
6. It's a good time to watch the birds and other wildlife with binoculars as they have a freedom-from-humantraffic celebration party outside.
Dolphins are actually swimming in the cleaner, less-crowded canals of Venice.
7. You can sign up to participate in World Animal Hero Kids Month activities on the Animal Hero Kids Month tab under the About Us drop down menu at Animalherokids.org Bonus Video: Animal Hero Kids from 4-12 years of age and Mother Nature made a great video message about the preventative solution to super viruses. See video here: https://youtu.be/1Se02ezgdjk