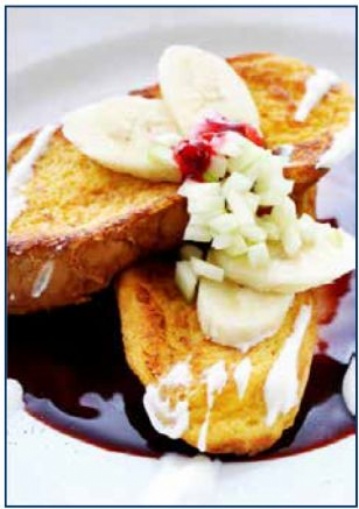 A dreamy, simple, perfectly sweet french toast that's completely vegan.
1-bowl, 30-minute vegan french toast made with wholesome, natural ingredients like almond milk, cinnamon and chia seeds

Servings: 5 slices
INGREDIENTS
• 1 heaping Tbsp. chia seeds (ground into a fine meal so they're undetectable)

• 1/2 Tbsp. agave nectar or maple syrup (or sweetener of choice)
• 1 cup unsweetened almond milk (or any nondairy milk)

• 1/2 tsp. ground cinnamon

• 1/2 tsp. vanilla extract
• 4-5 slices bread (it's important to use a sturdy, rustic bread or it can turn out soggy/soft)
INSTRUCTIONS
1. Mix all ingredients except the bread in a large, shallow bowl. Place in the fridge to activate for 10-20 minutes.
2. Preheat griddle to medium heat (~350 degrees F / 176 C) and grease with 1 Tbsp. vegan butter or coconut oil.
3. Dip each slice of bread in the batter for about 20 seconds on each side. If your bread is dry, leave it in a little longer. If you're using sandwich bread, it should only need 25-30 seconds total to soak.
4. Place on griddle and cook until golden brown on the underside. Carefully flip and cook until the other side is golden brown as well: 3-4 minutes.
5. Top with desired toppings: I used coconut whipped cream, strawberries, bananas and maple syrup.
HOW TO MAKE COCONUT WHIPPED CREAM
1. Select a good quality brand of full-fat coconut milk or coconut cream.
2. Chill can overnight in the refrigerator to harden (chilling in the freezer doesn't work as well).
3. Scoop hardened coconut cream into a mixing bowl, leaving any clear liquid behind (reserve for smoothies etc.)
4. Whip with a hand mixer or stand mixer until light peaks form.
5. (Optional) sweeten with sifted powdered sugar or stevia to taste (liquid sweeteners can weigh it down).
---
Recipe courtesy of People for the Ethical Treatment of Animals (PETA) which is the largest animal rights organization in the world with more than 6.5 million members and supporters. Visit PETA.com for more information.