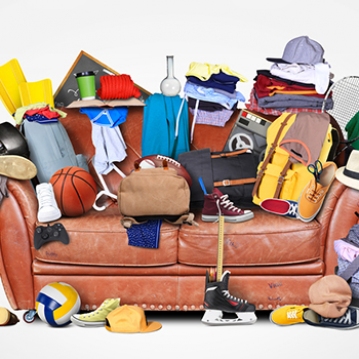 We binge watch Netflix, binge eat (everything), binge Zoom and binge Amazon shopping – we are "bingeing our brains out" while being homebound during this biblically proportioned pandemic.
Lately, I've been receiving calls regarding a specific area of clutter about purging paper piles. Though no big deal at first, collecting piles can negatively impact your mood over time. You can easily become overwhelmed and out of sorts. Looking at piles is a drain on the brain!
The goal of purging piles, therefore, is to gain control so you can focus your attention on other matters. Here are my tips to help overcome the paper chaos.
Mail and Magazines. For many, opening the mail or reading a magazine leads to "put it aside untillater!" or "I'm too busy now." So, what to do to avoid a cluttered mess of paper?
Try these paper pile purging tips: 1. Replace hard copy bills with online billing.
2. Open your mail the same day you get it. (It's mostly junk mail, so toss it out instantly.)
3. Learning a new habit takes about 21 days, so be diligent, be patient. Stand up to indecision and procrastination and throw out your junk mail and file your needed mail.
4. Once the next magazine arrives, do something with the old one. Either read it right away, or toss it out. (If you haven't read it by now….)
5. Consider canceling your subscription(s) and save money while clearing the clutter!
Laundry. Doing laundry is a chore. Recall the old days before washers and dryers? Back then, it was common to use a washboard to hand wash clothes, and then air dry on a clothesline! Washers and dryers save time and drudgery. What about folding?? What a pain, right? No wonder we procrastinate, ending up with a laundry pile to deal with.
Need help folding? Watch a YouTube tutorial.

The key is to fold ASAP. Fold each item and put it away – right away! And to find missing socks, look inside the fitted sheet corners.
Dishes. Another chore we abhor!
Handle dishwashing after the meal, load the dishwasher or wash by hand. A pile of dishes is not a good way to start the next day, so wash your dishes every night. It's just about doing it.
Office paper piles. Office paper piles stack up because we simply have no place to put them. So here is my twostep process.
1. Start purging the old files.
Opening each file folder gets the job done. You'll find old bills, outdated docs, old warranties (and other clutter). If it's outdated, toss or shred.
2. Take your paper pile and separate the "to file" pile from the toss or shred pile. Almost instantly, you'll get a feel for what's important, and what is not. "When in doubt, throw it out," once and for all. You'll feel accomplished, more lucid, and be ready, with a clear head, for bigger tasks before you.
For a successful pile purge of any kind, put on some music, get a beverage, wear comfortable clothes and establish a "feel-good" mindset that puts you in an action frame-ofmind.
If you need support, A Clutter Clearing now offers VIRTUAL decluttering services by phone, tablet or laptop. Together, we can tackle any area of your home and office, even your car from a safe distance. We are in this together.
Remember, purge your piles to create a mountain of smiles!!
Clear the Clutter…Clear the Mind™