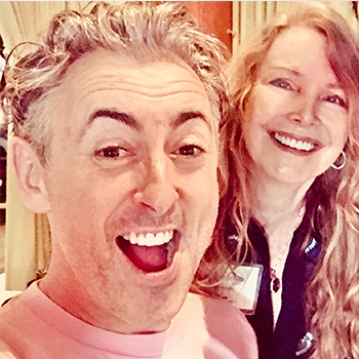 Are you ready for a bit of good news yet?
Have you noticed a welcome upswing in the numbers of vegans lately?
This morning I read about the latest A- List rocker, Bono, jumping on the vegan train. This was very welcome news. I was visiting my Irish cousin in southern Ireland years ago, in the area where Bono lives, and considered tossing a copy of "Animal Hero Kids Voices for the Voiceless" over the massive gate to his estate.
Now I wish I could return, as he could be open more to the kind2all, eco-friendly message of the book.
Here's some info about some of the prominent vegan celebs in the movie, music and sports industries.
I had the pleasure of meeting the witty gentleman who is first on the list. Alan Cumming states, "I just gradually discovered over the years I was happier eating this way. But I am also really conscious of how eating meat is so damaging not just to our own bodies, but the planet in general, and so now, yes, there's a political element to it. When people say 'I'm not political' I just want to shake them. Every time you go to the shops, every TV show you watch, every newspaper you buy is a political act."
Jessica Chastain was kind enough to contribute a quote for the "Animal Hero Kids Voices for the Voiceless" book; she went vegan because she wishes not to contribute to cruelty in this world, and would like everyone she meets to know how grateful she is they are here. How kind – a beautiful person, inside and out.
The coolest music power couple on the planet, Beyonce and Jay Z, encouraged their fans to go vegan in 2019 with a contest where the winner will receive concert tickets to their shows for life.
Joaquin and Rooney are serious about helping other animals, and put their talent where their heart is by narrating the documentaries "Dominion" and "Earthlings," and attending vigils to give pigs water with LA Animal Save. Joaquin recently rescued a mother cow and her baby from the jaws of death!
Here is only a partial list of plant-powered talent.
Vegan Stars: Alan Cumming, Alicia Silverstone, Ariana Grande, Benedict Cumberbatch, Beyonce, James Cameron, James Cromwell, Jessica Chastain, Joaquin Phoenix, Jay Z, Kyrie Irving, Lewis Hamilton, Maggie Q, Miley Cyrus, Moby, Mya, Natalie Portman, Pamela Anderson, Rooney Mara, RZA, Sadie Sink, Serena Williams, Sia, Snoop Dogg, Venus Williams, Woody Harrelson, Ellen DeGeneres and Portia DeRossi
Are You Ready to Jump Aboard the Vegan Train?
Whether you care about other animals, the planet, your health, climate change, world hunger or even the spread of super viruses, you will be in good company on the celeb vegan train. When I went vegan in 1986, I did not foresee the wealth of new vegan products we have today. It is so easy when I do AnimalHeroKids. org school presentations to offer scrumptious vegan fare samplings.