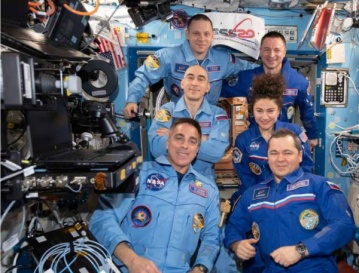 Summer is here. July 4th may not offer spectacular fireworks as we've come to expect, because many cities are nixing this years plans to ensure physical distancing. Sure, some folks will make a display of their cache and will have us oogle and google as we look up toward the sky in our own backyards.
There is another opportunity to celebrate. That's right – America has returned to space after a lapse of nine years. Completing 30 years of service, NASA retired its space shuttle fleet in 2011 with the final flight of the Atlantis orbiter. Atlantis landed back on Earth after its final mission on July 21, 2011. This was the 135th flight of NASA's shuttle program, and marked its end.
NASA astronauts Doug Hurley and Bob Behnken, who recently became the first crew to fly in SpaceX's Crew Dragon spacecraft, have settled into their new temporary home on board the International Space Station, according to Samantha Mathewson. She writes for Space.com and documented an interview with the astronauts, who spoke about their first week of activities in orbit, and what it was like to see Earth from space amid protests for racial justice around the world.
The International Space Station, or ISS, is a low-earth orbiting laboratory jointly operated by five international space agencies including those of the United States (NASA) and Russia. More than a decade of planning and construction was required before the station became habitable for the long term, and we are celebrating 20 years that it has been continuously populated by an always-changing crew of international astronauts using the station for research purposes. Visible with the naked eye from the Earth's surface, the space station has become a symbol of international unity and of human ingenuity. It also supports future space travel in its ongoing discoveries.
Astronauts Hurley and Behnken launched to the space station during SpaceX's historic Demo-2 mission on May 30, 2020. During an in-flight interview with ABC News and NBC News, Behnken reflected on how cooperation and understanding make international spaceflight possible. "From an astronaut's perspective, I think there is a long history of discussing the overview effect," the psychological impact of seeing Earth from space. "During spaceflight," Behnken continued, "a number of astronauts have reported experiencing the overview effect, describing it as a cognitive shift in awareness when seeing our planet from a cosmic perspective. It's the recognition that our planet is really one that we share and need to understand and work together to both take care of and to fully utilize, and make space for everyone."
"The message for us is one of cooperation and understanding, as much as the International Space Station has provided a place for many countries to cooperate and integrate and successfully accomplish science — ac complish the mission of human spaceflight," he said during the interview, adding, "Success can come from understanding and cooperation."
Space Exploration Technologies Corp., trading as SpaceX, is an American aerospace manufacturer and space transportation services company headquartered in Hawthorne, California. It was founded in 2002 by Elon Musk with the goal of reducing space transportation costs to enable the colonization of Mars. SpaceX has developed several launch vehicles, the Starlink satellite constellation, and the Dragon spacecraft.
What Is a Space Station?
Space stations enable us to experience and take advantage of spaceflight over long periods of time. Astronaut Chris Hadfield has describes them as "purpose-built laboratories orbiting the world."
The ISS is an internationally operated, habitable artificial satellite in low-earth orbit. It is jointly operated the United States (NASA), Russia (Roscomos), Japan (JAXA), Canada (CSA ASC), and the European Space Agency (ESA), and is governed by treaties between these nations.
On this note, let's envision that the joint efforts of countries working together to forge new discoveries will ultimately rain down peace as we celebrate our freedom — both near and far. Praying for our towns, our cities, the nations and our world!
Space Station Facts from NASA
NASA began offering text and email alerts to subscribers who wanted to "spot the station" in 2012 when it appeared over their hometown.
For weekly data and LIVE Feed: https://www.nasa.gov/nasalive Find sighting opportunities at http://spotthestation.nasa.gov Learn more about space exploration in astronaut Chris Hadfield's MasterClass at masterclass.com.
• 240 individuals from 19 countries have visited the International Space Station.
• The space station has been continuously occupied since November 2000.
• An international crew of six people live and work while traveling at a speed of five miles per second, orbiting Earth about every 90 minutes.
• In 24 hours, the space station makes 16 orbits of Earth, traveling through 16 sunrises and sunsets.
• The acre of solar panels that power the station means sometimes you can look up in the sky at dawn or dusk and see the spaceship flying over your home, even if you live in a big city. The living and working space in the station is larger than a six-bedroom house, and has six sleeping quarters, two bathrooms, a gym, and a 360-degree view bay window.
• To mitigate the loss of muscle and bone mass in the human body in microgravity, the astronauts work out at least two hours a day.
• The space station is 357 feet end-to-end, one yard shy of the full length of an American football field including the end zones.
• Eight miles of wire connects the electrical power system aboard the space station.
• Six spaceships can be connected to the space station at once.
• A spacecraft can arrive at the space station as soon as six hours after launching from Earth.
• The station's orbital path takes it over 90 percent of the Earth's population, with astronauts taking millions of images of the planet below. Check them out at https://eol.jsc.nasa.gov.
• The space station travels an equivalent distance to the Moon and back in about a day.
• More than 50 computers control the systems on the space station.
This NASA info current as of May 18, 2020 NASA Editor: Mark Garcia