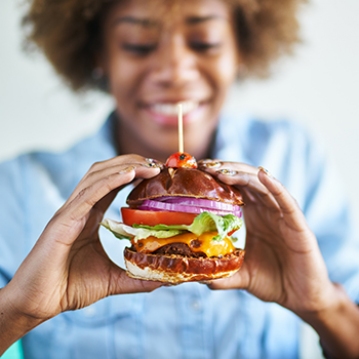 Plant-based diets have gone mainstream; and there continues to be a huge surge of interest amidst COVID-19 in finding even more plantbased options. Thanks to social media and effective journalism, people have learned of the harrowing treatment of animals during these mass culls, as well as the employees who have been exploited and forced to continue working under acute health concerns and duress. There is also a clear link between concentrated animal feeding operations (known as CAFOs) and pathogen-borne illnesses and viruses. Our modernday factory farms are essentially giant "wet markets," only they are carefully hidden from the public view.
For those who turn to plant-based products for health concerns, too many packaged foods can be an understandable concern, due to excess sodium and oils. However, for people who are tran sitioning away from a "Standard American Diet," vegan "eggs," "meats," "cheeses" and other plant-based options make this change quick, easy, seamless and extremely satisfying. Today, the flavors and textures offered are simply extraordinary – and the ingredient lists are far less concerning than you might think, particularly if you compare them to the ingredients in animal-derived packaged foods.
For many people, after a period of time, the palate changes and the flavor and appearance of animal foods are no longer desirable. Animal products taste gamey and greasy to long-time vegans. We can often detect traces of these foods if a surface is being shared. For those who make it to this point, it is rare that they ever go back to eating animal products.
I personally went vegan for animal rights and in an effort to protect the environment.
At that time, the options were far more limited. We had soy and almond milk, tofu, Tofutti, and veggie burgers (that tasted more like salted hockey pucks). As someone who has been eating lots of wholeplant foods for decades, I am not concerned about indulging in the fabulous plantbased products of today. I have struck a beautiful balance, drinking fresh squeezed juices, smoothies, salads rich in sprouts and cruciferous veggies… and yes, I love my Beyond Burgers and vegan breakfast sandwiches (made with JUST Egg, Violife "cheddar" and Beyond sausages) as an occasional treat! The key to long-term success is feeling satisfied, not deprived.
As there are SO MANY super products on the U.S. market now, I will just direct you to the resources page of my website, where you can explore some of the best: Visit vegantransitioncoach.com/resources. Many of these items can be found at your local grocery store. You can also go on VeganEssentials.com to find specialty items. For more suggestions and tips, feel free to contact me: karen@vegantransitioncoach.com.