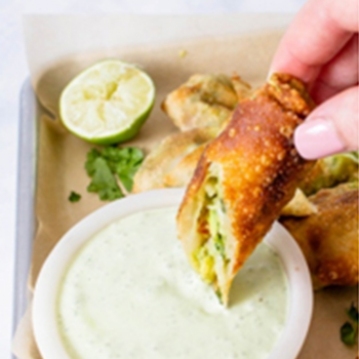 With many restaurant dining rooms closed, some restaurant chains and other businesses have started sharing recipes for their wellloved dishes. Here's a copycat recipe from the Cheesecake Factory.
These Avocado Egg Rolls with Vegan Cilantro Ranch are the perfect party appetizer! Perfectly crispy, simple to make and totally tasty!
Prep Time 10 minutes

Cook Time 10 minutes

Total Time 20 minutes
AVOCADO EGG ROLLS INGREDIENTS
• 3 avocados
• 1 Roma tomato deseeded and diced
• 1/4 cup red onion diced

• 1/4 cup cilantro chopped

• 1/2 teaspoon cumin
• 1/2 teaspoon pepper

• salt to taste

• 1 lime juiced
• 6-8 egg roll wrappers
• oil for frying
CILANTRO RANCH DIP INGREDIENTS
• 1/4 cup fresh cilantro

• 1-1/2 cup vegan mayo

• 1/4-1/2 cup nondairy mylk unsweetened

• 1-2 teaspoons apple cider vinegar

• 3 garlic cloves crushed

• 1/2 tablespoon dried parsley
• 1 teaspoon onion powder
• 1/4 teaspoon paprika
• 1/4 teaspoon pepper

• Salt to taste
DIRECTIONS
1. Prepare the cilantro ranch by combining all of the ingredients in a food processor (start with 1 tablespoon of plant-based mylk and 1 teaspoon of apple cider vinegar). Pulse until combined. Taste and adjust seasoning as needed. Place in the fridge until ready to use.
2. Add the avocado to a bowl and mash until the desired consistency is reached. Add the tomato, onion, cilantro, cumin, pepper, salt and lime juice to the bowl and stir to combine. Taste and adjust seasonings as needed.
3. Heat an inch of oil to 375 degrees in a Dutch oven or large pot.
4. Fill a small bowl with water.
Place your egg roll wrapper on a clean surface and place 3 tablespoons of the avocado filling in the center of the wrapper.
5. Use your finger to dab water onto the four corners of the roll. With the wrapper facing you as a diamond shape, fold in the two sides. Bring the bottom corner up, then roll toward the top corner, keeping the roll tight as you roll. Make sure that the exposed corner is secure, adding additional water to that corner if needed. Set aside until all of the egg rolls are done.
6. Working in batches, place your egg rolls in the hot oil. Cook until browned on both sides (approximately 2-4 minutes), flipping as needed. Place finished egg rolls on a paper towel-lined plate to allow excess oil to drain.
7. Cut egg rolls in half and serve with the cilantro ranch dip.