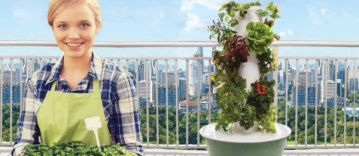 It's August – it's hot and it's time for something different to do. How about trying your hand at an indoor garden? There are many options and it's fun. The best part is you can use what you grow in some of the great recipes below!
Herbs

Herbs grow really well inside! Take your pick from these great and easy options: basil, cilantro, chives, parsley, sage, rosemary and thyme. You will need a sunny window box or plant pot by the window. Mint also does well indoors, and is a delightful addition to a refreshing Arnold Palmer, iced tea or lemonade.
Reproducing Veggies

Last summer I learned a new trick. Did you know that celery, romaine, scallions and leeks can reproduce themselves? You can just eat what you want, then stick their roots in some water when you're done. It's not going to produce a huge yield, but enough to enjoy the fruits of your labor. Here's how to grow celery:
All you have to do is put the root in a shallow bowl or cup of water by a windowsill, making sure it's not totally submerged, but spraying the top with water occasionally so it doesn't dry out.
A good idea is to stick some toothpicks in the sides and rest them on the bowl edges so the top doesn't go underwater.
It's fun to watch, and after about a week, a new little celery head will pop up; then you can transfer it into some soil in a pot or grow bag. You'll have a whole new celery to eat within a few weeks!
Microgreens

Microgreens are incredibly easy to grow. They're also fun to eat and healthy to boot. According to a 2012 research study in the Journal of Agricultural and Food Chemistry, "In general, microgreens contain considerably higher concentrations of vitamins and carotenoids than their mature plant counterparts."
According to Country Living Magazine, "Microgreens are packed with up to 40 times more vitamins and nutrients than fully grown veggies and plants."
You can start with a tasty mix of baby kale, beets and arugula, and you'll have your first harvest in just 2-3 weeks. Check online for information to get started. I found The Simply Good Box by Home Greens – The Simplest Way to Grow Amazing Microgreens for under $20.
Recipes
(Both recipes can be made vegan by using dairy-free substitutions)
Dill Scallion Dip
https://www.countryliving.com/
INGREDIENTS
• 1 c. sour cream

• 1/4 c. mayonnaise
• 1/2 c. sliced scallions

• 3 tbsp. chopped fresh dill

• 1 tbsp. lemon zest
• 1 small garlic clove, finely grated
• Kosher salt and freshly ground black pepper

• Potato chips, for serving
DIRECTIONS
Stir together sour cream, mayonnaise, scallions, dill, lemon zest, and garlic in a bowl. Season with salt and pepper. Chill 2 hours or up to 3 days. Serve with potato chips or crudités.
Once your herbs have grown, pick leaves from the top, so the plant will get bushy on the bottom. You can use your basil leaves to make pesto. I use it on spaghetti squash, as a base on an Italian-inspired frittata, dolloped over baked potatoes, or spread onto crackers or toasted bread. Of course, if you want to indulge, enjoy it the traditional way, on fresh pasta. Yum!
Basil Pesto
https://www.simplyrecipes.com/recipes/fresh_basil_pesto/

Basil pesto darkens when exposed to air, so to store, cover tightly with plastic wrap making sure the plastic is touching the top of the pesto and not allowing the pesto to have contact with air. The pesto will stay greener longer that way.
INGREDIENTS
• 2 cups fresh basil leaves, packed (can sub half the basil leaves with baby spinach)

• 1/2 cup freshly grated Romano or Parmigiano-Reggiano cheese (about 2 ounces)

• 1/2 cup extra virgin olive oil

• 1/3 cup pine nuts (can sub chopped walnuts)

• 1-3 garlic cloves, minced
• 1/4 teaspoon salt, more to taste
• 1/8 teaspoon freshly ground black pepper, more to taste
Special equipment: A food processor
DIRECTIONS

1. Pulse basil and pine nuts in a food processor: Place the basil leaves and pine nuts into the bowl of a food processor and pulse a several times.
2. Add the garlic and cheese: Add the garlic and Parmesan or Romano cheese and pulse several times more. Scrape down the sides of the food processor with a rubber spatula.
3. Stream in the olive oil: While the food processor is running, slowly add the olive oil in a steady small stream. Adding the olive oil slowly, while the processor is running, will help it emulsify and help keep the olive oil from separating. Occasionally stop to scrape down the sides of the food processor.
4. Stir in salt and freshly ground black pepper, add more to taste.
Toss with pasta for a quick sauce, dollop over baked potatoes, or spread onto crackers or toasted slices of bread.