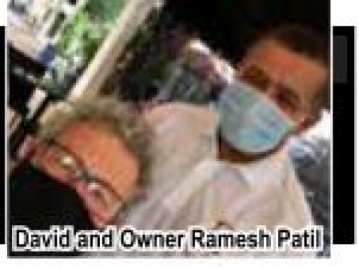 This East Boca restaurant, a warm and inviting step into India, is celebrating its grand reopening. Owner Ramesh Patil greeted us setting the tone for professional, cheerful service in an environment that emphasizes social distancing, masks and more to keep its diners safe. Our meal started with the PAPAD basket, grilled crispy lentil wafers served with sweet Tamarindo and savory, green Mint sauce. Both sauces complemented the crunch – an ideal match.
Our appetizers - VEGETABLE SAMOSA and SHRIMP TIKKA MASALA were plated with care and artistry. The pyramid-shaped pastries stuffed with potatoes, peas and spices were crisp with balanced seasoning, just the right flavor blend. A delicious, plantbased, gluten-free option that took our breath away! The charred crust and tenderly cooked shrimp were plated with a tangy sauce and a super crunchy coating. The results were melt-in-your-mouth yumminess.
The VEGETABLE MALABAR, a medley of potato, cauliflower, broccoli and cubes of Paneer, was delicious and the secret-blend orange sauce was a tasty partner for dipping. I enjoyed the hot GARLIC and CHEESE NAAN fresh from the Tandoori oven. Evenly baked, this unleavened bread was light, fluffy and flavorful. As for the ANDRA CHICKEN CURRY and Basmati rice, it was cooked to perfection; full of flavor, Anne devoured it.
For dessert, the KHEER, an Indian rice pudding, was a fine finish to my meal. Anne lost nothing by being dairy-free with warm, grated carrot pudding, GAJAR HALWA, an uncommon and delicious flavor.
We found Indian Harvest to be a five-star experience and highly recommend it for your next dinner out.
Open for lunch and dinner, Indian Harvest has dine-in, take out, delivery and catering services. Visit online at IndianHarvestFL.com or call 561-465-3246.

David and Owner Ramesh Patil
561-465-3246 Royal Palm Place, 500 Via De Palma's 79, Boca Raton, FL 33432
IndianHarvestFl.com