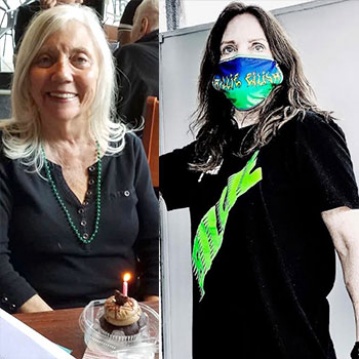 When was the last time you saw an over-40 female superhero in a movie or on television? The answer is never, yet in real life we are surrounded by women standing up and reaching out to help or defend others. Whether it be the grandmother taking over the care of a child, the woman who speaks up against bullies, or the women who rise to the challenges of COVID-19 and feed vegan fare to the community. They are all superheroes.
This months' Animal Heroes column is dedicated to all the older women heroes. Yes, I know older is all relative – the older I get the younger other people seem. I have met some strong, determined women heroes in my life during my 41 years helping other animals, but at 61 I am still, continually surprised about how far people go to pitch in.
Take for instance the first animal hero cop in the United States, Sherry Schlueter – talk about strong and capable and determined. It is thanks to her work that Florida was the first state to make intentional animal cruelty a felony. Or look at the huge difference Jane Goodall has made.
Then there are the unsung heroes who are spaying and neutering homeless cats, speaking up for those animals being exploited, or opening their homes to animals who need help. A few such friends are Carole Donovan, Judy Lindley, Diane Watchinski, Angela Means- Kaaya, Nanci Alexander, Ingrid Newkirk, Jane Velez Mitchell, Colleen Ferro, and Lisa Bergwin – and I can't forget Tia Williams, who was so very helpful when I was helping the homeless cats by the Miami airport. How about Anne Wiley, who guarded the recent Fort Lauderdale colony of Least Terns' nesting grounds? Renee King-Sonneen is the woman who transformed her husband's family cattle farm into a vegan sanctuary, and now helps animal-based farms to evolve past animal exploitation.
I was thrilled to livestream on Animal Hero Kids' Facebook page with Maggie Baird, the founder of Support and Feed, and mum to Billie and Finneas, two famous singers. Shelly Schlueter, a wildlife rescuer extraordinaire. Brigitte Lang – the editor of this free, good newspaper you're reading right now – is also an entrepreneur for the good of the planet and other animals.
There is one thing all of these kind women have in common – they are all vegan!
Then there is a superhero woman close to my heart who is the central fictional character in a book I am writing right now – she is a brave older superhero. I can't wait until you meet her in October during World Animal Hero Kids Month! Watch out in this column or on the Animalherokids.org website for this super empowerer to appear like magic.
So raise your vegan milkshake glasses high, and let's hear it for all the women heroes – their legions are needed now, more than ever!
P.S. Don't miss the new Volume 2 "Animal Hero Kids Voices for the Voiceless" out now on AnimalHeroKids.org.