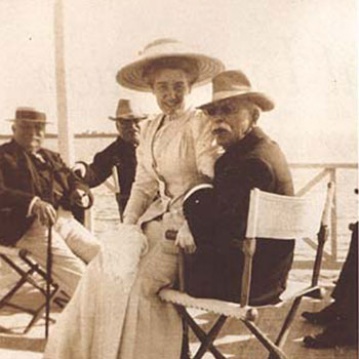 During a visit to the Flagler Museum, one room on the second floor left me reeling. It was simply called the Ida Alice room, and contained photos of the 10 happy years that Henry and his second wife (the nurse of his first, later deceased, wife) before he had her permanently committed to an insane asylum (er, sanitarium for the rich) so he could get a divorce and marry his third wife, the young Mary Lily Keenan, for whom Whitelhall was built and given to her as a wedding present. The story of Ida Alice lasted all of one minute as we walked through this small bedroom upstairs, basically explaining that they married, she went nuts, and poor Henry had to move on. I was obsessed from that moment.
The uber rich of the Gilded Age spent insane amounts of money on gorgeous, sprawling sanitariums to care for the loved ones in their families who became "mentally ill." Sanitariums became a place to be for family members who were inconvenient.
From Vanderbilts to Kennedys there is no shortage of examples. Cornelius Vanderbilt had his son committed due to his epilepsy, which Cornelius saw as a weakness. He told the doctors his son suffered from dementia, and they took that at face value. Upon his return home one year later, the young lad learned his mother had also been committed for insanity because she dared tell Cornelius that she refused to move from Staten Island to Manhattan when he told her he had already sold their estate. Oh, and Cornelius was also hot for the governess. It's not hard to imagine how she reacted to that little tidbit, but when you stand up to your billionaire husband in 1850, he has you committed to an asylum for insanity.
Hearing the tour guide dismiss Ida Alice as a blip on the Henry Flagler radar struck me so deeply. In all accounts, I can only find the same information. By 1890, Ida Alice Flagler is described as completely out of touch with reality, and Henry gets a ton of credit for paying for her care to the tune of over a million dollars a year. Not a high price to pay to keep her locked away for the rest of her natural life so he could marry his third wife, Mary Lily, who was almost 40 years younger than him. This marriage occurred a mere two days after he won his petition for divorce, after paying over $150,000 to achieve legislation in Florida (Ida was in NY, but he changed his permanent address to Florida) allowing that IF your wife is "incurably insane" THEN you can get a divorce. The law, sometimes referred to as the Flagler divorce law, was only invoked once, by Flagler, before being revoked a few years later due to public backlash.
The life of Ida Alice Shourds, before she met the Flaglers, is a mystery. I've joined genealogy sites, read volumes and volumes, and all I know is that she was briefly an actress before she became a nurse and worked for Flagler. From that point forward, she is portrayed as the deranged wife of poor Henry, who provided so well for her…. But I know in my bones there is more to the story. With all of the 19th century obsession with women's "vapors" and emotional frailty, and the ability of billionaires to pay for favorable legislation and psychiatrists and sanitariums, something drove her to be mad. I long to tell her story, and hope to one day.