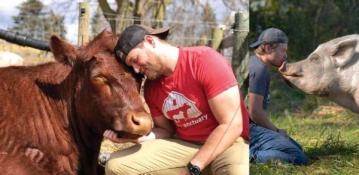 As we become more aware of the needs of animals that are neglected, abused or have lost their homes, adoptions and rescues increase. Pet adoptions are really on the rise – maybe it's to fill the void that the pandemic has wreaked on our lives, especially on travel plans, or simply to combat the loneliness that has ensued over months of quarantine. Adoptions of canines are especially prevalent now because the workforce has shifted. For many, being a homebased worker opens the door to train and care for a new pet, especially puppies and shelter dogs. With children at home and social plans limited, a pet is the next best thing to a play date.
Kim Kavin of The Washington Post reported about The Society for the Prevention of Cruelty to Animals Los Angeles, a nonprofit shelter. President Madeline Bernstein said, "Adoptions were double their usual rate in late June." She saw the continuing demand as a second wave happening within the COVID-19 crisis. "The first wave, when the virus initially struck, consisted of people fostering and adopting, in part to help clear the shelters before they had to shut down. Months later, a different type of adopter has come forward. There's been a realization that this is going to go on for a while," she said. "People will not be getting on planes to travel. They're going to plan staycations or driving vacations that are more amenable to pets. So they'll adopt now. This is like a second group of people on a whole other timeline."
Other reports indicate that the rate of returning pets to shelters is down. This is an important issue. Many know that during Easter, well-meaning parents bring home and then return their beloved new bunny because "it didn't work out." Responsible adoption is vital to any family, and especially to the animals. Years ago our family adopted a German Shepard puppy, who after a short time was bigger than the kids. It didn't work out and it was very painful for our family to lose Charlie Brown. We were able to find him a new home, thankfully, but it was very sad and hard on all of us. It's important to research and assess all the elements that will influence the longevity of your decision.
Pet adoptions and animal rescues can take many forms. I went to Chelsea, Michigan on a writing assignment for an Animal Planet series that was released in early 2020, "Saved By the Barn."
Dan McKernan founded Barn Sanctuary and quit his six-figure technology career in Austin, Texas in 2016. He returned home to Chelsea to convert his family's generationsold farm into a rescue for barnyard animals – with absolutely no experience.
The mission of Barn Sanctuary is rescuing and rehabilitating farm animal refugees, and spreading the message of compassion. Dan, along with his twin brother Chris and their dad, who has lived and worked on the farm for most of his adult life, are passionate about animal welfare. They share a common goal: to save farm animals from perilous situations, and give them a place to live out their natural lives in safety and peace.
It's very hard work for Dan, his brother and their dad to care for the turkeys and pigs and cows and goats and the farm – they are real heroes. Their passion and purpose is palpable. A variety of programs for children have been established, and families from the community are invited to learn about the proper care of animals. Because of COVID-19, most learning for the community is online. Check out BarnSanctuary.com.
"Saved By The Barn" premiered in the Spring as 12 one-hour episodes about running the sanctuary. It began airing in April when most of us were sheltering in place. Each week, I looked forward to the inspiring stories, and came to admire the whole team at Barn Sanctuary. The program featured rescue stories, unique medical cases, charismatic characters – both human and animal – while also shining a light on modern day farm life, with a distinctive twist. This is definitely a story of heroic and bold adventure. (Google "Saved By The Barn" to watch episodes online.)
The folks at Barn Sanctuary are proponents of a vegan lifestyle. If you research online the atrocities that are endured by factory farm animals, you will most likely agree: by reducing the demand, we will influence the outcome, and save needless neglect and abuse. It's basic math – by consuming less meat and fowl that comes from animals that have been abused, neglected and treated inhumanely, we can begin to create a safe haven in our homes and on our earth.