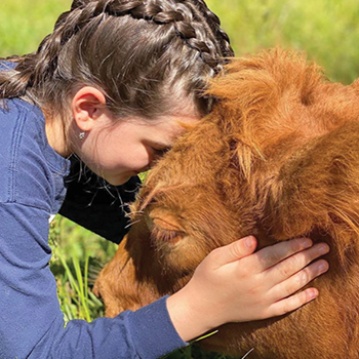 My thankful cup is full to the brim this month with joyful incidents of kindness accelerators.
One of the numerous things I am thankful for this year is World Animal Hero Kids Month, also known as AnimalHeroKidtober. When I see the global outpouring of positive actions by compassionate, engaged youth, in spite of the challenges we are all facing right now, I can feel my heart literally expand in appreciation. We have a national "decorate a cake" day, why not an international "kids being kind" month?
My heart swells too, when I confirmed that the actress from the iconic classic movie "Friday" will be the voice of Courage the mermaid in the Claymation short "Veganza Animal Hero," currently in production. You may have heard the saying "Bye Felicia" from "Friday." Now it will be "Bye Felicia, Hello Courage." Actress Angela Means is also the entrepreneur behind the Jackfruit Cafe in Los Angeles. During Animal- HeroKidtober, the professional actress prepared 100 plant-based meals to feed the 1736 Family Crisis Center via an Animal Hero Kids Sponsorship and Support and Feed collaboration.
I am so thankful to Tofurky for donating their vegan products to feed challenged youth in Animal Hero Kids food giveaways. And the turkeys whose lives are saved are also thankful to Tofurky, I bet.
Thankful, too, for the marvelous quote the kind mother of Billie Eilish and Finneas O'Connell contributed for the "Veganza Animal Hero" book review:
"How beautiful to equate the word 'hero' with empathy and compassion for animals, qualities that children so naturally possess."
– Maggie Baird, mum of Billie Eilish and Finneas O'Connell.
Thankful to filmmaker Gabe Oria for completing the first episode in a video series called "Mother Nature Says 'Be an Animal Hero'" for early elementary school grade levels. If you would like a free, virtual visit from the Mother Nature storyteller in your classroom or channel, email education@animalherokids.org.
I am delighted to showcase what kind kids around the world are doing for animals, people and the planet – talk about Happy Herald-worthy news!
AnimalHeroKidtober in review
• NY inner city youth read true animal rescue stories from the "Animal Hero Kids Voices to the Voiceless" book at Tamerlaine Sanctuary in New Jersey via a partnership with Hip Hop is Green and Animal Hero Kids. This is the first time these young people met farmed animals who were alive, safe and happy.
• Kids also read stories of animal rescue by youth from the "Animal Hero Kids Voices for the Voiceless" book to shelter and sanctuary animals in England, New Jersey, Florida, Japan and Bolivia.
• Youth spoke out about climate change via video messages from around the world.
• Kids around the world supported Joaquin Phoenix's video plea to change the world from your kitchen by going vegan by asking their own friends and families to explore kinder, healthier food choices.
• In rural Alaska, 12-year-old Lilly made catnip toys for shelter cats.
• In Brazil, 11-year-old climate activist Brunna asked a local Mexican restaurant to feature plant-based meals as an Animal Hero Kids month special.
• In Arizona, Kimaya, seven, distributed care packages for the homeless in Arizona.
• In Connecticut, sevenyear-old Isabella and nine-year-old Savannah read to rescued farm animals at JP Farm Sanctuary (they were surprised with Animal Hero Kids Awards during their reading).
• In Los Angeles and South Florida a plant-based giveaway occurred for populations in need during Animal- HeroKidtober.
• In North Carolina, siblings Reid and Scarlett, seven and 13 respectively, performed a parody of a Spice Girls song to inspire kinder choices.
• In Fort Lauderdale, Ella, seven, read a story about a rescued pony to the rescued pony in the story.
• Animal Hero Kids Founder Susan Hargreaves (that's me) surprised a Fort Lauderdale vegan restaurant owner with a "Kind2All Evolve" award for evolving toward earthfriendly, kinder-choice, plant-based business.
• Zsa Zsa, seven, danced ballet with her rescued chickens.
• Josie, 13, created an uplifting video message with Franny, the first rescued pig who has been registered as a therapy pig in Virginia.
• In Orlando kids (and me too) donned hazmat suits and goggles to inform passersby about the link between pandemics and animal-based agriculture.
• In Japan, an Animal Hero Kid interviewed a vegan chef.
• In Kenya, an Animal Hero Kid stood with Greta Thunberg for a Friday for the Future event.
• Khendall, a nine-year-old basketball player gave out free Beyond Sausage sandwiches to non-vegan sanctuary visitors in Gainesville, Florida.
• I led a new "Be an Animal Hero" virtual school program during AnimalHeroKidtober in Connecticut; students used the Animal Hero Kids e-book as a guide.
• Book launch virtual reading of the new book "Veganza Animal Hero" by the author at the historic iconic former seafood restaurant – now vegan thanks to Chef Jonny NoBones – the Old Riverhouse Vegan Village in Fort Lauderdale.
Note: All activities were physically distanced with everyone wearing masks whenever appropriate.
If you know a kind kid or teen who wishes to join the Animal Hero crew animalherokids.org, please let them know about:
#AnimalHeroKidtober https://animalherokids.org/animalhero-kids-month/