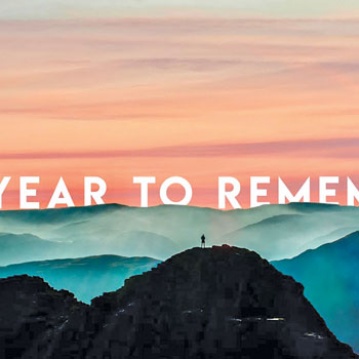 Although our collective COVID-19 reality is not over, it certainly made 2020 a year to remember. Who knew, as we were prepping our green outfits and shamrocks to welcome spring, that our world was going to come to a screeching halt? Oh, the innocence of it all. Remember when you first heard you didn't have to go to work, or kids weren't to report to school, restaurants closed – how it felt so temporary? Remember when masks were weird? Remember hugs?
As the year closes, and 2020 becomes a verb ("he got 2020'd!"), I thought it appropriate to reflect on what 2020 has given us besides anxiety and division.

Here is my list of 20 things to be grateful for in 2020:

1. Family time! Never have I ever enjoyed so much quality time with family members. Despite that my two boys live in different states, as do my dad and brother, we set time aside each week to Zoom or FaceTime, which is more than we did when we had free reign! A friend of mine started a book club with her grown children who live in other states. We got creative, and are closer for it.
2. Working from home.
While it might not be everyone's cup of tea, successfully working from home will open doors to more flexible work environments in the future. Do we really need to be in the office 40 hours-plus per week? No. And COVID-19 proved that.
3. Learning from home.
Again, not everyone's favorite, but for those who never knew it was an option, and who enjoy online learning, it was great to learn that this too can be done.
4. We saw who the heroes are. People who continued to work during the height of the pandemic: medical professionals, law enforcement, grocery store staff, bus drivers, postal workers, Amazon and UPS employees, guard gate attendees… people who kept the world going while the rest of us stayed in. And let me just reiterate: health care workers.
Hats Off!
5. Our emergency readiness was unveiled. For better or worse, we now know where our strengths and weaknesses are.
6. Musicians. What a beautiful group of people they are. Can't have a concert? No problem, we will put one online for you to help get you through. So much creativity in quarantine. New songs, new ways to come together for virtual performances, virtual DJ dance parties. Love is bigger than us all, and it really showed in this arena.
7. Oddly at first, when the entire world shut down at the beginning of summer, the earth had a chance to breathe. Fewer carbon emissions due to such limited travel!
8. Appreciating the outdoors. Being cooped up inside with nowhere to go made people antsy. I, for one, went for many long walks listening to books. I saw so many people out and about on bikes, walking, jogging. We slowed down and smelled the roses.
9. Projects! Home improvement projects have been through the roof!
10. Hobbies: I read more books this summer than I've read in the last decade! Also, I created my first oil painting.
While 2020 wasn't all we had hoped for such a momentous year – 100 years ago women got the right to vote! – this past year made us forget just about everything we took for granted as normal. Some focused on the positive and some on the negative.
Goodbye, 2020. You'll not soon be forgotten. But I do hope 2021 will bring us closer to a time when we are less fearful, more loving, and peaceful.