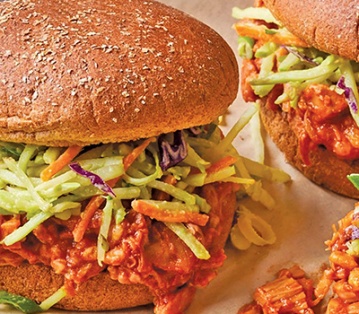 PREP TIME: 30 MINUTES / READY IN: 30 MINUTES
MKES 6 SANDWICHES (3 CUPS FILLING 2 CUPS SLAW)
Jackfruit has a meaty texture that soaks up flavors from an easy homemade barbecue sauce to make this classic-style sandwich.
Shredded broccoli and mashed avocado make for a creamy, crunchy slaw.
Note: Canned jackfruit can be full of sodium. Check labels and select the brand with the lowest amount of sodium, or look for frozen jackfruit and thaw before using.
INGREDIENTS

• ½ of a small avocado, seeded and peeled
• 2 teaspoons lime juice

• 3 cups shredded broccoli slaw mix
• ¼ cup sliced scallions (green onions)

• 1 cups no-salt-added tomato sauce
• 3 pitted whole dates
• 1½ teaspoons chili powder
• 2 cloves garlic

• ½ teaspoon smoked paprika

• ¼ teaspoon freshly ground black pepper

• 1 14-oz. can green jackfruit, rinsed, drained, and chopped
• 1 cup cooked farro

• 6 whole wheat hamburger buns, toasted
INSTRUCTIONS

1 For slaw, in a large bowl mash together avocado and lime juice. Add slaw mix and scallions; stir to combine. Cover and let stand while preparing filling.
2 For filling, in a blender combine the next six ingredients (tomato sauce through black pepper). Cover and blend until smooth. Pour into a medium saucepan. Stir in jackfruit and farro. Cover and heat through over medium heat, stirring occasionally.
3 Spoon jackfruit mixture into buns. Top with slaw.