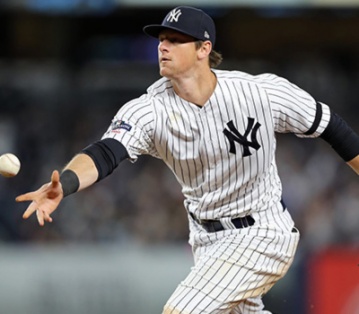 As our sports calendar rolls on, pitchers and catchers will soon be reporting to their respective spring training sites, honing their skills as they prepare for the start of the 2021 baseball season. The good news is (depending, of course, on controlling the virus) MLB head honcho Rob Manfred intends to have teams play a full 162-game schedule.
Any return to some sort of normalcy is a welcome sight, and the various preseason prognostications will offer their predictions on who will finish where; some are obvious (Yankees, Dodgers, Astros); some are close to being great (Indians, Braves, Cubs, Cardinals); and then there are the wannabes, who are smaller in nature, but hoping to crash the post-season party (Padres, Twins, Rays, As). But notice a trend? Big market teams are perpetually in the mix, thanks largely to their ability to spend unlimited millions in a sport where there is no salary cap. Yes, the Rays and As may make a run from time to time, but by and large, it's a restricted club with the richest teams fighting over free agents to further stock an already stocked pantry.
As of this writing, the Yankees re-signed coveted free agent D.J. LeMahieu to a $90 million deal and are about to acquire two-time former Cy Young award winner Corey Kluber. Instantly, a team which boasted a prodigious power-hitting lineup immediately adds two more pieces to make yet another championship run. The defending champion Dodgers reloaded as well and will be a tough out; ditto for Houston, the Cubs and St. Louis. Great – for them. But if you're a fan of the Royals, Pirates or Orioles, you have no shot. True, The Rays made a deep run last year, and San Diego made a splash this offseason with several high-profile acquisitions. But it never seems to sustain itself. These teams will do well for a year or two, then they're out of the mix for another five-year stretch. And in sports, especially in this YouTube, instant-social-media atmosphere, if you're not relevant quickly you might as well be in Siberia.
By the way, MLB isn't the only sport where parity is a memory. In college football, college basketball, the NBA and even hockey, the present nature of those organizations leads to the narrowing of teams even capable of competing – never mind winning. And that's not a good thing. Part of the joy of rooting for your team is the idea that hope really does spring eternal – but if you already know who's likely to win even before the ball is kicked off, what fun is there in that exercise? Answer: none. Only in the NFL, where the late commissioner Pete Rozelle devised the idea of parity, do you have a semblance of overall competitiveness. Again, of the four squads who were left to play in the respective league championship games, three are from traditionally smaller markets. In the NFL, everyone has a chance and everyone cares – just ask fans of the Jaguars who are 1-15 this year, but can't wait for next year to kick off.
What's the answer?
I'm not sure, but the first step in fixing a problem is recognizing you have one. Salary caps, scholarship limits, and a better distribution of revenue are all options, but until then, get ready for the same teams competing for their titles over and over again.
And Groundhog Day for fans is no fun, right?