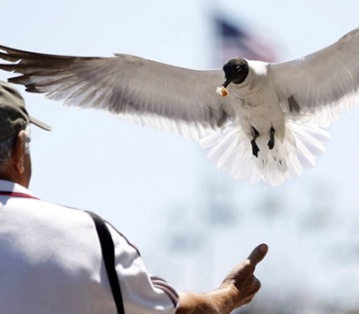 As football is upon us, all eyes turn to the Super Bowl, and eating enormous amounts of food. But with COVID-19 upon us as well, we need to find safer ways to do football and food. Like I did some years back. Let me explain.
I used to play football with seagulls. Well, not exactly. I mean I never tackled a single one of these beach-dwelling birds. I never blocked one, blitzed one, or sacked one. What I did do, however, was play quarterback with them. And they made me the best quarterback I had ever been in my life.
When I was young – around adolescent young – I played running back in tackle football. I was never tall – still am not and doubt I ever will be now that I'm approaching the end of the third quarter of the football game of life. But I was very fast – the fastest boy in my school – and hard to bring down. When our football games switched to cement – sans helmets and shoulder pads – tackle football was replace by touch football, and my position shifted to wide receiver, quarterbacks taking advantage of my speed, sure hands, and jumping ability. I scored lots of touchdowns on what were called fly patterns where I would just take off and fly past my defender. But I was always a lousy quarterback; I didn't have the arm strength or accuracy. Until I met the seagulls, that is.
These were birds in Hillsboro Beach, about an hour north of South Beach, where I moved at the turn of the century. By turn of the century, I'm referring, of course, to this one, not the last one; I said it was the third quarter of life I'm in, not quintuple overtime. These gulls were better than the pass catchers of the Eagles of Philadelphia, the Ravens of Baltimore, and the Seahawks of Seattle. The wide receivers from these National Football League teams have great speed; man can they fly.
But the Seagulls of South Florida could really fly. Like literally.
And they could swoop, as well.
The receivers of the NFL have sure hands – balls thrown at them that they can get their hands on are rarely dropped. But none of them are as sure-handed as my seagulls are sure-beaked. Never – and I mean never – did one ever drop a piece of bread or cracker that they managed to get their beaks on. And they managed to get their beaks on all kinds of bread I threw at them. I threw them down-and-out patterns, down-and-in patterns, and stop-and-go-fly patterns, and I led them like the best quarterbacks ever. My pass completion percentage was nearly 100 percent. Eat your hearts out Tom Brady, Peyton Manning, and Joe Montana. They looked better than Julian Edelman, Marvin Harrison or Jerry Rice ever did.
Some of these gulls had gotten so comfortable with me that not only were they willing to play pass and catch with me, they were also willing to take the bread out of my hands. I don't mean that they swooped down and ate it directly out of my palm. That was a boundary we weren't able to cross. But many of them had gotten so used to me that they were willing to take it out of my fingers when I extended my hand high above my head. This gave them a margin of safety that they and I were willing to live with.
So when they took the bread, crackers and rice cakes from my hands, I was still acting as a quarterback. This time I was giving them handoffs as if they were running backs. And they'd fly away with the ball of bread for first downs and touchdowns.
If you'd like to communicate non-verbally with nonhumans, I can recommend seagulls. If you play football with them, you need to be a little patient. It's likely they're going to have to feel safe with you, and that may just take a little bit of time. But if you'd like to outdo Patrick Mahomes, Drew Brees and Aaron Rodgers, go for it.