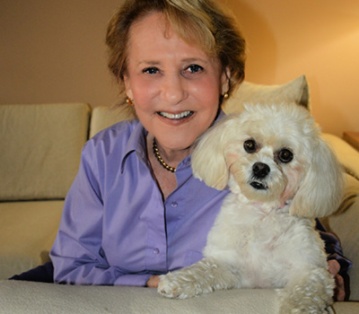 Weird. There was an incoming call from my doctor's office. No appointments were scheduled, no test results were due. I took a deep breath and answered. It was my doctor "in a pickle" asking for my help.
Dr. Jon Berger had a patient wanting to adopt a dog.
Due to COVID/quarantine, she was spending more time home, alone. The local shelter wouldn't even allow her in to the kennels to see what was available. She had a feeling it was due to her "maturity level." Dr. Jon asked if he could pass along my number, and if I knew of any (non-puppy) dogs in need of a great home.
Of course, give her my number!
A couple days later Phyllis called. We enjoyed a delightful long conversation. She had been a dog owner, but not for a couple decades. While in New Jersey, expecting their first child, her husband surprised her with something from the pickle place, where he worked. Pickles was a loveable mutt, reliable watchdog, and good with their three children. Renowned for his neighborhood adventures, he lived to the ripe old age of 14. Years later the family got a pair of Sheltie sisters, who enjoyed the run of their property and blessed long lives.
Their children grew up and flew the nest. Phyllis relocated to South Florida in 1996, escaping the cold.
Phyllis wanted a friendly, small dog, three to five years old, low maintenance, to join her on walks and share her life. Sex, color and breed were irrelevant, but the weight could not exceed 20 pounds (condo rules). I didn't know of any pooches fitting her requirements just then. Also working in her favor: Phyllis was willing to be patient and wait for the right dog.
Weeks went by. I agreed to help a friend facing a lifestyle change rehome a few of her beloved dogs. A couple small dogs joined our pack. We vetted and got to know them, learning their personalities to determine what kind of homes/lifestyles would best suit them.
One of the dogs was a mellow, smart, four-year-old Pekapoo. Amiable with cats and dogs, she preferred the company of people. Reveling in her naps and alone time, I knew she'd be fine as an only.
While driving back from a socialization trip we took her on, I thought, she just might be perfect for Phyllis. Right size, age, temperament and just needed to lose a few pounds. Left a message.
Phyllis called the next morning. We went for a meet and greet home visit. Not only do we both go to Dr. Jon, we live within 10 minutes of each other. An active octogenarian, Phyllis rises before the sun, does stairs at 5 am, and walks three-plus miles daily. Frankly, she is in better shape than most of us.
The fluffy white pooch sniffed around the elegantly decorated apartment, checking out the screened-terrace view, laden with trees and birdsong. She wanted to jump on the sofa, but Phyllis said that was the one rule she would have. I said, "Your home, your rules. It just may require a little training." We talked about the adoption procedure, care, my vet, and having a written plan for the dog should she no longer be able to care for her. Her references were stellar, paperwork completed. Days later, I brought the dog, food, treats and belongings to her new home with Phyllis.
These "golden girls" are doing great. "The no-sofa rule lasted about three minutes," Phyllis confided. "Having a dog now is so different. While we loved our dogs, it is nothing like having the pampered princess here who gets a minimum of two daily walks, gourmet food, grooming and a designated place on my bed. My little roommate is cuddly, a great listener and walking partner. She is always happy to see me, whether I'm away five minutes to the mailbox or out on an errand for a couple hours. She has made lots of friends, lost the extra weight, and recently taken up squirrel hunting," added Phyllis.
Phyllis may have been disappointed with how she was treated by the shelter, and her initial search for a canine companion. By confiding in her doctor and being open to possibilities, she started out in a pickle; but she ended up with a luscious Olive!