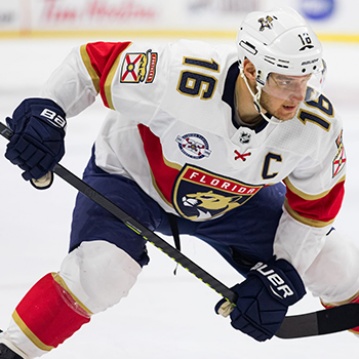 There's a tendency when writing or covering sports to engage in what I call the HSA Syndrome – or Hottest Story Around – and potentially overlook other intriguing events. So it is with our professional hockey team, aka the Florida Panthers, but who this year could be called the SST - Sunrise's Surprise Team (for those who don't know, the arena is located in Sunrise, Florida).
For years it's been easy to overlook whatever they were up to for the simple reason they didn't matter, or were not relevant. Regardless if they changed coaches, general managers, players or a combination of all three, the results were still the same – meh. Oh sure, they made the playoffs a few times, even challenged to win a series now and then, but the fact remained this franchise had not seen any significant success in going on Twenty-Five (25!) years! Just for a reference point that was four presidencies ago. Do you know what happens to franchises which are irrelevant for 25 years? They cease to have growth, develop new fans and eventually move out of town or go out of business. It is a testament to that loyal core of 8,000-10,000 fans who show up each night that they are even still in the conversation, though of course, with only 31 professional squads, any NHL team is still a valuable commodity.
But nothing changes the dynamics of relevance like winning, which is what this year's team is doing – and a lot of it. As of this writing the Panthers are tied for second place in the NHL's Central Division, just one point out of first place behind last year's Stanley Cup Champion – and cross state rival – Tampa Bay Lightning. They just finished taking two of three from their more successful big brother. and show every sign of being in it for the long haul. The secret sauce? Well, the team's stars, centerman Aleksander Barkov, defenseman Aaron Ekblad and goalie Sergei Bobrovsky are doing their parts, but it's also the role players doing what they were brought in to do; players like Noel Acciari and Alexander Wennberg may not yet be household names, but come playoff time (and they will make the playoffs) those guys, plus a much-improved defense, could be the difference.
It might be premature to celebrate the success of a team which has not won a playoff series since 1996 and only made the playoffs five times since then; and yes, they are only playing a 56-game schedule instead of the regular 82-game set. But facts are facts. This team, either because of personnel moves make by general manager Bill Zito or coaching moves by head man Joel Quenneville, are decidedly better and deserve your support – or at the very least, your attention.
So, it's game on, eh?!