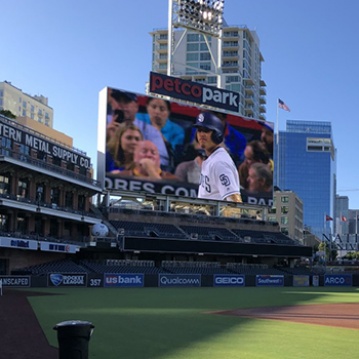 Got a quick test for my readers out there: go to your favorite sports website, either by phone or computer (or if you're really old school, the printed newspaper) and skip to the agate type page – you know the one where the standings and box scores for results are listed. What do you see? What stands out? I'll tell what you don't see – this: 0. As in zero people in attendance. Though some states have severe limitations, no one has completely banned fans from attending games. Canada will not allow international travel to and from the United States, forcing the Toronto Blue Jays to temporarily play their games in Dunedin, Florida (their spring training home), so they are a bit of an outlier, but otherwise the attendance figures from most ballparks are encouraging.
Encouraging because it's another sign that our lives, while still fighting the pandemic, are slowly returning to some sort of familiar routine. As this is written, the attendance figures are running at about 25 percent of capacity, some higher (looking at you, Texas) and some lower (hello, Massachusetts), but it's a significant and hopeful trend. Part of recovering from this national tragedy (and any time over half a million people die from a disease, it's a tragedy) is to return to familiar touchstones – things that give your life a certain comfort because they are things you enjoy doing and they appear to be coming back.
I know I miss attending a live sporting event. (Personal note: last one for me was March 2, 2020, a Heat home game vs. the Milwaukee Bucks, nine days before the sporting world stopped.) I enjoy the anticipation of the event, the crowd cheers – or boos, the quiet time to sit and talk to a friend about stuff, and the generally satisfying experience these events bring to a person. When you don't have that, you miss something, and it detracts from all of our lives. It's not just sports I'm speaking of: movies, live theater, concerts and dining out are all activities that give texture to our lives. We miss those things. We need those things. Otherwise, life can become a humdrum sort of existence, sort of like having a meal with no seasoning. Not good.
Now, there are precautions we must take in order to continue this trend: vaccinations must be made available to those who want them. Despite increased perceived safety, people should still adhere to CDC guidelines regarding masks and physical distancing. And most important, open things up gradually – don't rush the process, or you risk a return to necessary closures and limitations.
So here's to hearing the sweetest sound the next time you or I attend a baseball game:
BATTER UP!!!