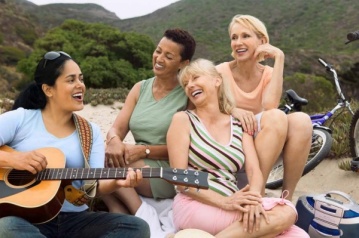 Music can do a lot of things. It can lift our spirits, make us dance, sing, tap our feet, feel connected to our past, cry, show solidarity, represent a nation… and I believe, music can soothe the soul.
I'm postulating that music is an integral part of all of our lives, in a multitude of different ways. I'm pretty sure you'll agree.
June is bustin' out all over
All over the meadow and the
hill!
Buds're bustin' outa bushes
And the rompin' river
pushes
Ev'ry little wheel that wheels
beside the mill!
June is bustin' out all over
The feelin' is gettin' so
intense,
That the young Virginia
creepers
Have been huggin' the
bejeepers
Outta all the mornin' glories
on the fence!
Because it's June… June,
June, June
Just because it's June!
This is June, June, June, and for those who love musicals, I bet you're ready to burst out with:
Oscar Hammerstein II wrote the lyrics to that song, and it was a hit in Rodgers and Hammerstein's "Carousel," which was originally produced in 1945. Here it is 75 years later and we still hear and feel the beat.
That's the way music is. It sticks with you. Think back to your childhood, your first big love, or your wedding song – these are forever etched in our hearts and souls.
There's something else that has recently happened that illustrates how music is an elixir for the soul. It was the nightly clap fest in New York City during the early days of the pandemic. Some evenings the clapping was accompanied by people playing the song, "New York, New York," and many made their own music too. Nothing was more important than showing support for the medical workers as they fought COVID-19.
The beat goes on, the beat
goes on
Drums keep pounding a
rhythm to the brain
La de da de de, la de da de da
Grandmas sit in chairs and
reminisce
Boys keep chasing girls to
get a kiss
The cars keep going faster all
the time
Bums still cry, "Hey buddy,
have you got a dime?"
And the beat goes on, the
beat goes on
Drums keep pounding a
rhythm to the brain
La de da de de, la de da de da
And the beat goes on, yes,
the beat goes on
And the beat goes on, and
the beat goes on
I remember in late March 2020 first learning about people in Italy who were in lockdown, singing and playing a variety of musical instruments from their balconies. Check out this article in Time Magazine online to enjoy some links from Twitter and YouTube: https://time.com/5802700/lockdownsong/ Music lives in our hearts and souls, and one thing's for sure, as Sonny and Cher sang in this catchy song, written by Sonny Bono… the beat goes on and on and on.
And speaking of beats and music, sometimes music comes from the soul, as in the case of our Happy Herald Copy Editor, Laura Sue the Silver Nightingale. Laura Sue, a flautist and hospice musician has personally serenaded a number of my loved ones with her healing music at their end-of-life bedsides and she hears the beat from within. I couldn't bring this article to completion without inviting her to share a few words about being a musical artist and soothing others souls…. Laura Sue, I pass this final paragraph over to you…..
"Thanks Liz! I wholeheartedly agree with your premise. I have always found music to be essential, both playing and listening to music – something that energizes, inspires, comforts and sustains me in so many ways. Music has helped get me through some very difficult times, and has even saved my life. And countless people I've been privileged to play for over the years have shared with me how my music has helped and supported them and their loved ones. There is no doubt that music is a very special and healing medium. Let me give the last word to master musician Johnny Cash, who said, "They're powerful, those songs. At times they've been my only way back, the only door out of the dark, bad places the black dog calls home."