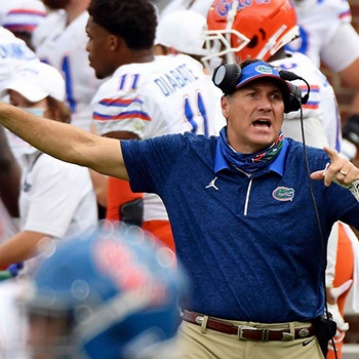 Part of the beauty of sports is the unpredictability of its outcomes. This is usually true of our second most passionate sport – college football (sorry, king NFL is still tops). But as we approach what we hope is a relatively normal 2021 season, a number of questions amass on the horizon. Tops on the list is competitive balance, that is who's going to be #1 at the end of the year.
When the four-team playoff was introduced, the hope was it would invigorate a stagnant system. Instead, a review of the last five years shows the usual suspects still winning. Alabama, Clemson, Ohio State and Oklahoma – as well as the occasional interloper (Georgia, Notre Dame) – have essentially ruled the roost. Now, the NCAA proposes the idea of a 12-team playoff in the hope of expanding the championship pool (and attracting more viewers). It's set to begin in 2023 – maybe sooner. Additionally, the U.S. Supreme Court has now decreed student athletes can profit from their name, image and likeness (or NIL for short), further blurring the lines between professional and amateur. It may be the correct decision in terms of legal jurisprudence, but it will not prove helpful as member institutions fight to maintain some sort of order. Players now permitted to earn money outside of room, board and tuition may find themselves at odds with teammates who, either though envy or greed, may begin to resent the money earned by star players. This fact could lead to an unprecedented amount of transfers and turn the transfer portal – a trickle now – into a transfer flood.
Which brings us to the state of Florida. All three main schools (and with all due respect to the other D-1 schools, we're going to stay with the major conferences) face interesting challenges as they approach on-field competition.
FLORIDA: It's funny how a bad finish can impact next season's perception. When UF lost to Oklahoma in the Cotton Bowl, the naysayers seized upon that loss (and the loss of offensive stars) to predict UF's demise. Not so fast. Dan Mullen's crew still have plenty of offensive weaponry to call upon, and if his defense can become competent – instead of putrid – a successful season is assured. With three big games on the slate (Alabama, LSU and Georgia), even if UF goes 1-2, in those games, they can win 10 games. Which is what I'll go with, 10-2.
MIAMI: Coach Manny Diaz's crew also had a poor finish, but boasts the return of All-Conference QB D'Eriq King (who has his own NIL deal in place) and a bevy of offensive weapons. Like UF, if their defense can keep opponents at bay, a solid season is possible. The schedule, apart from Alabama and North Carolina, is manageable. With luck and development, 10-2 is within reach.
FLORIDA STATE: New head man Mike Norvell faced a player revolt, multiple COVID-19 cancellations, and an unhappy fan base in his first year. Oh, and the team wasn't very good. All of which is to say, with great challenges come great opportunities.
Credit Norvell with doing well on the recruiting trail and improving the culture surrounding FSU. It may take a while but he seems to be headed in the right direction. This year may be painful at times, but I see 7-5 as a definite possibility.
So grab your favorite adult beverage, and by the end of the month, the season will be in play. And not a moment too soon.
Cheers!