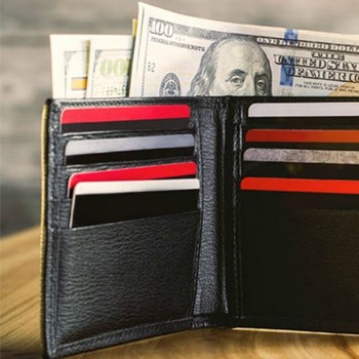 This month we take on a personal item we all have readily at hand. It's our wallets.
For both men and women, the wallet is key to keeping your valued possessions orderly… unless you've not been deliberately and periodically purging the unneeded items in it.
So here goes, my timely tips on organizing and decluttering your wallet. Start here and who knows, you may want to move on to the next step: clearing out your purse, your car, and then taking on the home junk drawer… but let's start small, with your wallet.
Here are the essentials I suggest you generally keep in your wallet:
1. Cash

2. Driver's license

3. Car Insurance/registration cards

4. Medical ID card
5. Bank and/or one or two credit cards

6. AAA card or other 911 info

Everything else, including pictures, spare button, spare change, receipts, multiple credit cards and such may be up for discussion and relocation.
Here's how easy it is to clear the wallet of unwanted items.
1. Set aside 30 minutes for this most valuable task.
2. Empty out the entire contents on a table or other flat, clean surface.
3. Reduce the unwanted papers that otherwise have been "planted" in your wallet and have a garbage can nearby.
4. Look through receipts, old ATM info, and decide to shred or tear these items – or file if that's your desire, but no need to keep on carrying them around with you.
5. Place the most necessary items back into the wallet (see above list of essentials).
6. Reduce the number of gym membership and extra credit cards you carry and place those numbers into your phone if you ever need them.
7. If you collect frequent purchase loyalty cards, consider which ones you really are loyal to, and which ones just don't mean that much. Place the lessused cards in your car storage area for safe keeping, and after six months of inactivity, consider you're no longer in need. Discard.
8. As I'm writing this, I'm checking in my own wallet, and noticed three receipts I no longer need!
9. Some people (like myself) carry a spare blank check (just in case) for any special need uses.
10. Periodic wallet purging helps you lighten the load, stay ahead of old papers and receipts, and reminds you that YOU, not the wallet, are IN CHARGE of your clutter.
Finally, as you enjoy the "dog days of summer," relax, smell the roses, appreciate your "stuff," your family and your own well-being.
Remember, even the best athletes use coaches to improve their game.
Please don't hesitate to contact me should YOU or someone you know require professional organizing and coaching with a Feng Shui flair. We can clear the clutter together, ensuring you greater peace of mind, greater clarity and transformational results.