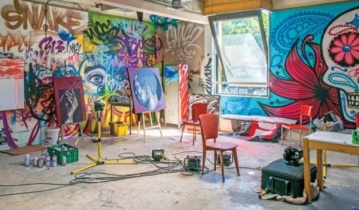 August in Florida has always required strategy.
Get outside early, indoors midday, and back out when the sun's going down. With summer in full swing and freedoms still being encouraged, hopefully some newfound inspiration is around for you to enjoy. Let's look at some thoughts and ideas on creativity.
As a child, I quickly deduced I had no talent. My best friend could draw. Her horses were detailed and lifelike. I was so impressed. At the age of seven, I relegated myself to the category of "no artistic talent" whatso-ever.
I liked sports and talking, but neither of those was considered an aspect of the creative realm, so I never ventured further. When I started singing the songs of the Sixties and Seventies, I was shut down quickly. My family didn't even sugarcoat it. "Elizabeth, you have a terrible singing voice." Grrrr, that was a bummer, because I loved to sing out loud.
It wasn't until I turned 13 that I garnered an inkling of a hidden creative talent. I wrote a friend a letter. It was called "the purple letter" because I wrote it on purple paper. I wrote from my heart, and the words penetrated her defenses and helped us bridge a rift. Fifty years later, we both know the "purple letter" was an opening into connecting and bonding for us, and the first moment I discovered I had some creative talent. Once I recognized that, I could honor it, work with it and parlay it into a skill set that I am using this moment to write this article for you.
So let's pause for moment to reflect on your journey of creativity, and the various expressions of your talents. What has your relationship been to creativity? Have you actualized your gifts? Do you sing, write, create poetry, take great pictures, cook, arrange flowers, help friends get uncluttered? Did you or do you struggle with actualizing your gifts and creative endeavors? Let's see where your hidden creativity may be.
The author of "Eat, Pray, Love," Elizabeth Gilbert, brings us a great new book entitled "Big Magic: Creative Living Beyond Fear." The author digs deep into her own generative process. She touches on the nature of inspiration, curiosity and fear. She addresses attitudes and habits that help creativity become an active and vital force in our lives. Gilbert encourages the reader to uncover the "strange jewels" that are hidden within each of us, and to enter the world of wonder and joy.
Where does creativity live? How does it get stimulated? What can you do to nourish it?
Here's what I've noticed. When wonder and joy are present, inspiration flows. It may take many forms: A thought, a desire, a wish, a dream, a prayer, a simple sound like a hum or a whistle… that's what catalyzes the opening of the creative well within.
Interestingly enough, yesterday I asked a client about her joy. "What brings you joy?" I queried. And she could not answer. I asked a friend the same question and there was a pause. I think most of us believe joy has to be a big deal… something we only get every once in a while.
How about seeking joyful moments? How about looking though the eyes of wonderment? Wouldn't that awaken your inspiration and curiosity and enthusiasm?
I'm postulating that joy and wonderment are roads to the "strange jewels" that Elizabeth Gilbert encourages us to actualize.
Take wonder out with you today. Look for little baubles of joy. Let your barriers down and redefine creativity, so what is hidden can be seen.
After all, it's August, a month of action and activity. In dictionary. com the word august as an adjective means: inspiring reverence or admiration; of supreme dignity or grandeur; majestic.
Make your own magic happen – bring your talents and creativity to the surface, be curious, be bold, and be brave, as you uncover and discover your unique hidden creativity!