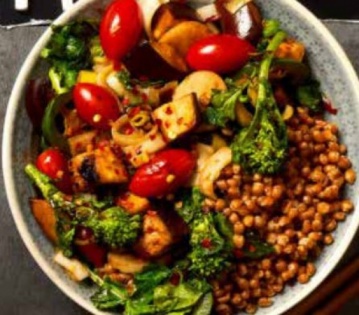 PREP TIME: 20 MINUTES | READY IN: 30 MINUTES.
Makes 4 cups vegetable mixture
Remember water chestnuts from Chow Mein when you were a kid? Those crunchy veggies are making a comeback in this spicy stir fry, which also features juicy tomatoes, fork-tender eggplant, and spicy jalapeño chiles.
Tip: Chile peppers contain oils that can irritate your skin and eyes. Wear plastic or rubber gloves when working with them.
INGREDIENTS

• ½ cup low-sodium vegetable broth
• 1 tablespoon Hoisin sauce

• 1 tablespoon balsamic vinegar

• 2 teaspoons arrowroot powder

• 1 teaspoon pure cane sugar
• 1 teaspoon chili garlic sauce
• 1 teaspoon reduced-sodium soy sauce

• 2 cups ¾-inch cubed eggplant

• 1 cup sliced leeks
• 1 fresh jalapeño chile, sliced (see tip in recipe intro)

• 2 cloves garlic, minced
• 2 cups broccoli rabe, cut into 2-inch pieces

• 1 cup cherry or grape tomatoes
• 1 8-oz. can sliced water chestnuts, rinsed and drained

• 2 cups hot cooked wheat berries
• Crushed red pepper
INSTRUCTIONS

1. For sauce, in a small bowl combine the first seven ingredients (through soy sauce) and ¼ cup water. Mix well.
2. In a large wok or extra-large skillet cook and stir eggplant, leeks, jalapeño, and garlic over high heat 5 minutes, adding water, 1 to 2 tbsp. at a time, as needed to prevent sticking. Add broccoli rabe, tomatoes, and water chestnuts; cook and stir 2 to 3 minutes or until broccoli rabe is just starting to get tender.
3. Stir sauce and add to wok. Mix well; cook and stir 1 to 2 minutes or until sauce is thickened. Serve over wheat berries and sprinkle with crushed red pepper.