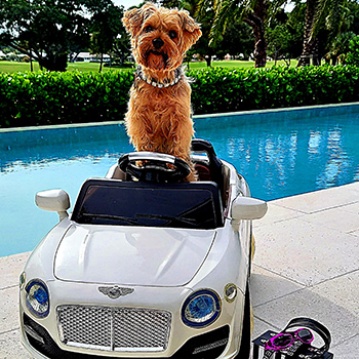 By Giavanna as told to Tina VaLant
After the loss of my canine predecessor, my family took some time to heal. The void in their home and hearts begged to be filled. This sassy Yorkshire Terrier arrived at 12 weeks old, via the west coast of Florida. Frankly, I was too cute for my own good, and I sure knew how to work it! My parents (especially Mom) needed some help. This six-pound, black-andtan bundle of joy had energy and aspirations far bigger than her stature. Incidentally, we get flack about my looks like, "Aren't you too big to be a yorkie?", "Your ears are winky," "What kind of mix is that?" It makes Mom's Italian blood boil!
Realizing we had to start somewhere, we enrolled at the Obedience Training Club of Palm Beach County (OTCPBC), for puppy basic obedience. The road ahead of us looked long, and bumpy. You see, my parents were used to an obedient, elderly service dog; but I, Giavanna had my own unique way of doing things – along with dreams to make the world a better place.
Founded in 1953, OTCPBC advocates for hard work, dedication and responsible dog ownership. With over 100 members, a variety of classes are offered at their 5000 sq. ft, indoor facility, with a full-size agility field in Lake Park, FL. "You strengthen the bond between you and your dog through training, spending quality time together, and doing something you BOTH enjoy. A partnership is mandatory between a dog and a handler to have a mutually beneficial relationship," stated Betty Gansky, OTCPBC president (and mom to yorkies). Titles can be earned in agility, CGC, obedience, competition, rally, scent work, and tracking. The title I had in mind did not fall within any of these categories, but very important to me and my family.
The first step toward our goal was earning my CGC (canine good citizen), where I caught the eye of our instructor, Peggy DiMinico. Initially she referred to us as "her greatest challenge;" then Peggy became our coach. She helped us perfect every command with the utmost precision. Slowly but surely, my handler (Mom) and I were beginning to work as a team, inching our way towards success.
Finally got the break I needed. Fame and fortune couldn't be far away, right? This past April we heard from an old friend, who happens to be an award-winning photographer, rescuer and true dog aficionado, Tina VaLant. She asked if I might be interested in being a model for an oversized hardcover coffee table book. Was this a dig at my size, again?
Tina staged, styled and photographed forty-plus dogs along with Palm Beach's prominent porcine resident Mona Lisa (a very nice pig) for the section entitled, "The Dogs of Worth Avenue," showcasing the dogs that work, shop, dine and enjoy "The Avenue." This is Palm Beach, dahlings. Lights, camera, action; bring it on! My session was poolside, at the luxurious, historic Chesterfield Hotel. As I cranked up my cuteness dial, I listened to the instructions very carefully. I hardly needed any treats – this was so fun!
We were cautioned that the editor/publisher is very picky. Only the very best images would make it to publication. We even had to sign a model release. ME!!! A model – the very thought makes me giddy. Take that, all you naysayers!!
The following week we received the call. I was put in a down-stay. Mom put the call on speakerphone, so Dad and I could hear too. Tina said, "I have good news and bad news". Mom got a panicked look on her face. I thought, hooboy, I'm in trouble, again. "The bad news is, I can't tell you which of your images was selected. The good news is, Giavanna, you were the most obedient and extremely photogenic model on this project and – you MADE THE BOOK!" Mom squealed like our new friend Mona Lisa. It was so loud, she hurt both my and my Dad's ears!
So the next time someone comments on my appearance, Terrier disposition or breed. I'm just gonna bark, "Oh yeah! Well, SUPERSIZE me! I'm Giavanna Nicole CGC, a professional model AND working service dog!" Pups and peeps, here's my advice:
Be good, work hard, pay no attention to what others say you can/can't do. Most of all: Let your dreams be even bigger than you.
To learn more about Palm Beach County's oldest dog training club, visit www.OTCPBC.org.