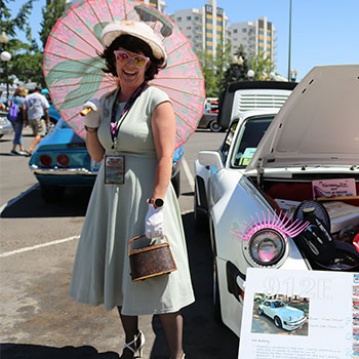 Hot August Nights, in Reno/Sparks, Nevada. One might think that car shows attracted only male car owners. Well, not so. Hot August Nights Sponsors Women With Wheelz, hosted by Teresa's Garage Radio Show just for the ladies.
This year, HAN held the show on August 4 th and 5 th , with almost 80 female classic car owners in attendance.
Ages ranged from an 11 yr. old female, accompanied by her grandfather, to 78 years in age. The show is not about winning a prize, it is about connecting with other women who share the same interest – passion for their automobile. Many women dress to match their classics.
Winners were not selected by judges, but rather by a lottery-style pulling a number. Six awards in all, resembling a 78 LP, with titles from Best Bling, Best Rear End, Best Classy Chassis to name a few. Not your traditional car show, but one where the ladies really know how to Show and "Shine." Happy Motoring.