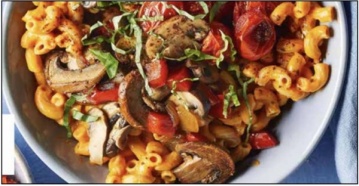 PREP TIME: 30 MINUTES • MAKES 4 BOWLS
This gorgeous dish takes Vegan Mac and Cheese to a whole new level, and is sure to please the young and not-so-young. Pasta and an assortment of juicy, tender-roasted vegetables get drenched in velvety Vegan Queso. A sprinkling of Aleppo pepper, a popular spice in the Middle East, adds heat and a subtle sweetness similar to sun-dried tomatoes.
INGREDIENTS
• 2 cups grape or cherry tomatoes
• Freshly ground black pepper, to taste

• 12 oz. dry short whole wheat pasta, such as macaroni

• 1¼ to 1½ cups Vegan Queso
• 6 cups sliced fresh cremini mushrooms

• 1 bell pepper, any color, chopped (1 cup)

• 1 small sweet onion, chopped (¾ cup)
• 4 cloves garlic, minced

• ¼ cup shredded fresh basil
• ½ teaspoon ground Aleppo pepper
INSTRUCTIONS

1. Preheat oven to 450°F. Line a 15 x 10-inch baking pan with parchment paper. Spread tomatoes in prepared pan. Roast 10 to 12 minutes or until lightly browned and skins begin to pop. Season with black pepper.
2. Cook pasta according to package directions; drain. Return pasta to pot. Add Queso Sauce; toss to coat, adding water, 1 tablespoon at a time, as needed to make creamy.
3. Meanwhile, in an extra-large nonstick skillet, cook mushrooms, bell pepper, onion and garlic over medium 5 minutes or until tender and any liquid has evaporated, stirring occasionally.
4. Spoon pasta mixture into bowls.
Top with mushroom mixture and tomatoes. Sprinkle with basil and Aleppo pepper.