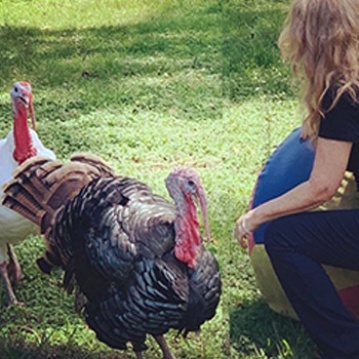 You know that feeling, the warm lift of your heart, when you are truly able to help someone? It doesn't require thanks or any kind or recognition. It simply lifts your spirit.
You may even sleep easier when you are aware you have constructively helped someone, two-legged or four.
I am sure you, dear reader, know what I mean. This time of year is all about giving thanks, and I consider what animals would say to the kindhearted vegans, rescuers and adopters if they could talk.
Four Reasons Animals Would Thank Vegans

1. When vegans purchase plant-based foods and non-leather products, they're not funding animal cruelty and exploitation inside factory farms, slaughterhouses and stockyards.
2. Vegans plant seeds and prompt others to think about or question their eating and buying habits. Vegans spark questions from others, such as "Where do you get your protein?" "If you don't drink cow's milk, what do you put in your coffee?" "Why did you become a vegan?" These are just a few of the thought-provoking questions commonly asked by critical and curious thinkers who are open to adopting a kinder lifestyle.
3. Vegans consider the brutal treatment toward the babies in the animal agriculture industry. Male chicks are of no use to the egg industry and are ground up alive.
Calves are immediately torn from their mothers so humans can consume cow's milk. The female calves become dairy cows and the male calves get sold for veal. Pigs are kept in barren, narrow metal cages in which they can't even turn around.
4. Wildlife also appreciates vegans. Choosing to eat plant-based food saves 10,957 square feet of forest each year. Captive wildlife displays and businesses that exploit animals are not supported by vegans. I bet you already know the reason why.
Did you know?

Turkeys can create over 20 distinct vocalizations and recognize each other by their unique voices.
Wild turkeys sleep in trees overnight and can fly up to 60 miles per hour.
I once, unexpectedly, had the opportunity to rescue a turkey from certain death. While transporting him to safety in a van, the turkey calmly and inquisitively looked out the window the entire time, seemingly entranced with possibly his first views of the larger world and freedom.
Turkeys Around the World Urge You to Try These Savory Roasts

At Thanksgiving, I look forward to preparing mouth-watering roasted potatoes, Brussels sprouts, gravy made with Marmite, and savory rosemary stuffing, with one of the following choices:
Tofurky Holiday Roast – More than five million sold, and sold out in many stores around the world. Buy this popular first-ever vegan option roast sooner rather than later.
Pastry-wrapped Field or Celebration Roast – The roasts come with choices of hazelnut and cranberry stuffing or rosemary, ginger and sausage stuffing. The pastry is flaky and the inside rubbed with sage and garlic.
Gardein Savory Stuffed Turk'y – This is a favorite among vegans. It's got a crispy and tasty coating on the outside, and includes delicious gravy and cranberry stuffing with wild rice.
Trader Joe's Breaded Turkey-less Stuffed Roast – This is a favorite of many friends, and new on the market. I have not had the pleasure of trying this one yet. I heard the gravy and stuffing are excellent.