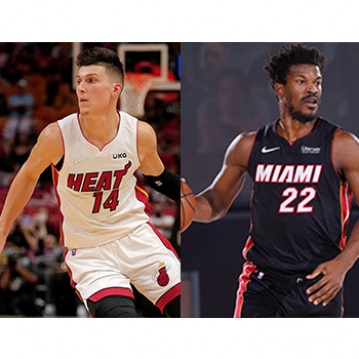 As we look into our collective crystal balls for the 2021-22 (can't believe the year is almost over) Heat NBA season, a few things jump out at the casual observer. The first thing will be just that – observers. You see, for the first time in three seasons, fans will be allowed back into NBA arenas, and depending on where you live, that could mean a huge home court advantage – or just some more noise in the rafters. Florida has decided to leave it up to individual franchises, and as of the date of this writing, it appears that most Heat fans will be welcomed back, with a few caveats.
Proof of vaccinations and/or a recent negative COVID-19 test result will not be needed, but masking will be encouraged, if not mandated. As a season ticket holder for the last 15 years (full disclosure, I share the tickets with five other people) I am of two minds on this issue. On the one hand, I love the idea of getting back to the Arena (now known as FTX Arena) with its excitement, energy and cool opening (literally full of fire). Yet I can't help but wonder if putting 19,000-plus souls in a confined area, yelling and cheering their hearts out, is a great idea. I understand both sides of the debate, and probably will end up going to the games – but prepared to wear a mask.
As for the squad, off-season additions – and subtractions – find some talented new faces adorning the roster, especially in the backcourt. 35-year-old Kyle Lowry, he of the 2019 Toronto Raptors championship, now runs the show, along with mainstays Jimmy Butler and Bam Adebayo. Whether his legs can take the pounding of an 82-game season remains a mystery, but if he can contribute and take some of the load off Jimmy "Buckets," especially in crunch time, then it's money well spent. Joining Lowry are P.J. Tucker and Markieff Morris, solid veterans who know their roles and are considered solid clubhouse guys. Gone are Goran Dragic, Kendrick Nunn, and Andre Iguodala – good guys, but players who no longer fit the formula. And if Pat Riley, Erik Spoelstra and the rest of the brain trust over there know one thing, it's what – and who – they want for their team. They identify a need and fill it. Refreshing, actually (as opposed to other local squads still struggling to figure it out).
Most intriguing is the development of the two sharpshooters, Tyler Herro and Duncan Robinson. Herro especially has garnered a lot of second looks with his outstanding preseason play; whether that translates into regular season effectiveness remains to be seen (as does his reported inability to stay away from the South Beach nightlife). As for predictions? No way. Too many variables. So let's just start this marathon of a season, which begins near pumpkin time, and hopefully ends around Father's Day.
Tip 'em off boys, and let's go Heat!!