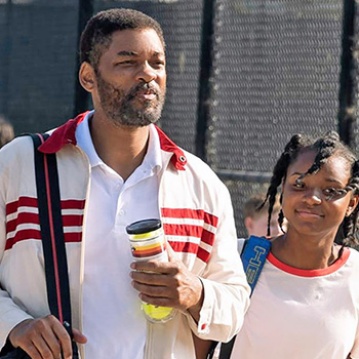 "King Richard," a new film starring Will Smith in the title role and directed by Reinaldo Marcus Green, is as much a film about tennis as it is about the new age as it is about tennis. Readers of this column and advertisers in this publication might wonder what the last part of that sentence could possibly mean. After all, Richard Williams is widely known as a Jehovah's Witness, who has put off countless people with his arrogance. So what is it about the tennis champion creator that speaks of the new age?
As the new biopic points out ever so accurately, Richard Williams understood the power of thought and speech, especially when it is anchored in absolute certainty. He knew before his only two children with his second wife were born that he was going to make them tennis champions. He had seen the 1978 French Open singles champion Virginia Ruzici from Romania play tennis, and decided that he would turn his future children into tennis greats.
The girls were named Venus and Serena; he would tell the former that she would become the number one tennis player in the world and win the Wimbledon championship. He told her kid sister Serena that she would become the greatest tennis player ever. These are ridiculously unreasonable goals, especially before your children are even born. But that didn't stop Richard Williams from doing just that. And Venus and Serena Williams from achieving just that.
The king maker – or queen maker, as the case may be – began by writing an 85-page plan for how he would bring his daughters to the greatest heights of the tennis world. He took tennis lessons himself from a teacher known as "Old Whiskey," not exactly a name that strikes confidence at the higher levels of the tennisteaching world. Especially if Old Whiskey's student wants his girls to win at Wimbledon, where only mandatory tennis whites are allowed. With some lessons under his belt, Richard started giving lessons himself to his girls on the public hard courts of hardscrabble Compton, California, where they lived. They were just four-and-ahalf-years of age.
His comprehensive plan included constant affirmation to his daughters that they would win Wimbledon (Venus) and become the greatest woman's player ever (Serena). This was a message that was backed up by his wife Oracene who assisted Richard in their training. It was also reinforced by the girls' half-sisters from their mother's first marriage, siblings who felt no jealousy for their step-father's plan for his biological daughters.
Richard's written program for turning his children into stars in the tennis world also included a holistic vision. He wanted them to maintain straight A averages in school and have a normal childhood – one that prevented them from becoming professionals until they had at least had a chance to be girls… and not have to fight tooth and nail against tennis players who were grown women. Professional tennis teachers and tennis cognoscenti told him that his plan was absurd. He told them to do as he said. They did. And his daughters grew up in a balanced way, time for play, time for study, time to honor their Lord, and time to play tennis. Oh, yes, and time to recite the enormous goals that he inculcated in them. At one point he took them out of a top tennis academy and coached them himself.
So how did he do? Under his coaching, Venus won 49 singles titles, Serena 73, with one or both of his offspring capturing 28 doubles titles, as well. His oldest girl Venus won seven Grand Slam Singles championships – five of them at Wimbledon like her father said she would. His baby girl Serena won 23, the most of any woman in the Open Era, and only one less than Margaret Court, who played prior to that. Most tennis insiders regard her as the greatest female player to ever set foot on a tennis court, whether it be a hard court, its grass counterpart, or a clay version.
His extraordinary achievements earned him election to the American Tennis Association's Hall of Fame, and the Black Tennis Hall of Fame, while opening up a previously white dominated sport for countless African-Americans.
So what is his new age lesson for you? Set a goal, set it high, and believe with all your mind and heart that you will achieve it. Then having mastered the inner work, do the outer work to make your vision a reality.