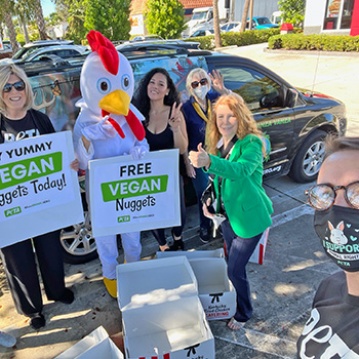 In the mid-1980s in the times of shoulder pads, disco and some interesting perms, I went vegan; I knew every vegan in South Florida – all 30 of them. Fast forward to today, I have just returned from helping to distribute 1,500 pieces of Beyond plant-based chicken from KFC. I can't believe I am actually writing those words: plant-based chicken available at KFC!!
KFC now offers Beyond Fried Chicken, a scrumptious plant-based alternative in every one of their restaurants.
Talk about happy news for the most abused birds in the world, and for the planet. Eating vegan is going mainstream! There are affordable, available and delicious options offered in fast food restaurant chains like never before – we are hitting the tipping point. This is a time many animal activists have been working toward for many, many years. This is my 42nd year rescuing and advocating for other animals to live free from harm. 2022 is promising to be the best year yet for the increase in the exploding cornucopia of vegan products replacing animal cruelty. To see those choices, please go to https://www.animalherokids.org/vegan-tips-by-veganza.
BEanANIMALHERO.org and PETA supporters helped hand out the scrumptious Beyond Meat nuggets to the pre-vegan mainstream public for free. It was a fast-paced action, all were gone in under an hour. Beyond Meat's newly released product is just one example of a massive shift in the food industry, fueled by public demand for plant-based options, due to rising concerns over the climate crisis, the inhumane treatment of animals, and human health.
The fun, festive giveaway included Henny the vegucator picking up the order in the restaurant's drive-through lane. The number of pieces given away being 1,500 was chosen because that is how many chickens are killed each second.
They are simply the best nuggets I've tasted, ever. They're not only delicious, they're good for animals and the planet too. Fast food chains are seeing the writing on the wall. Their customers want healthier, kinder choices that are better for the planet. Animal heroes everywhere are cluckin' ecstatic.
Then I drove to the Aid to Victims of Domestic Violence offices, so they could deliver the scrumptious Beyond Meat plantbased chicken to their residences, which house approximately 100 people. They offer a vital service to the community. Learn more at http://www.AVDAonline.org.
Today was a historic day, signifying the strides forward for the vegan mission of eating food without a history of violence, food choices counteracting the climate crisis, and delish!
''The nuggets were a big, well received treat!''

''The nuggets were a big, well received treat!''