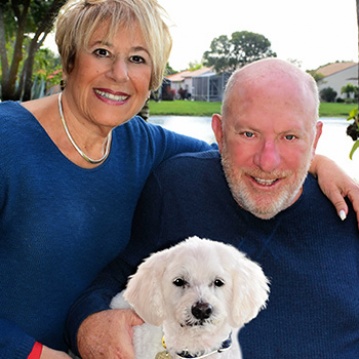 Beverly had seen the "Happy Herald" newspaper at Joseph's Italian market before; but this time, a copy went home with her. She read my column, about why an adult dog is a better choice than a puppy for mature adults, and why NEVER to gift a pet. "It made so much sense,'' Beverly shared. "I felt like the author was speaking directly to me. I sent her an email, and she responded!" This was the start of our friendship.
Beverly and Alan are originally from New York. Beverly had a Pekinese back in her twenties, Alan had never had a dog. They were snowbirds for a couple years, and then became permanent Floridians 10 years ago. After a lot of consideration, they agreed that a canine companion would be a great addition to their family. They wanted to give a homeless dog a wonderful life, and go through a reputable rescue.
A toy poodle, Maltese, Yorkie or even a mix appealed to them. While they didn't have a preference on a boy or girl, they set their sights on an adult dog with good house manners. S/he would have to like children, as they have six grandchildren. They sniffed around PetFinder.org. Beverly immersed herself in the pictures and bios, and filled out several applications.
About that same time (early December) a matted canine waif had been sighted near Rapids Water Park in Riviera Beach. Furry Friends Rescue fetched the dirty little bag of bones. A terrible stench emanated from his mouth. Severely underweight, it was obvious he had suffered longterm neglect. Safely back at Furry Friends, he was examined, named Kringle, and dosed with strong antibiotics. Several baths later, it was discovered his fur was white, not gray. After a few days of rest, he went under anesthesia. The vet estimated his age to be eight to ten years old, and confirmed his mouth was in bad shape. After removing broken and decayed teeth, he was left with only four.
Listed as a poodle-mix (possibly a Bedlington terrier, imho), he was affable with dogs and people. However, he was not a fan of the cone, which would allow his mouth (full of sutures) to properly heal. After a few more days on the mend, he was ready for adoption. Beverly and Alan saw his picture online. Since they already had their application in, they made arrangements to visit him at Furry Friends in Jupiter. "When they brought him out, he came right to me. It was love at first sight," Beverly confessed, "He was exactly what we envisioned." The three of them headed home, one with a cone.
The first few days they allowed him to acclimate to his new surroundings, schedule and family. He kept Beverly in sight at all times. Even though she was the one who really wanted a dog, the biggest revelation has been with Alan. "I never knew having a dog would be so fun. We enjoy playing, walking and taking him for car rides. He makes us smile and laugh every day. We are grateful he is healing, and to have been blessed with this special guy." One more big change was coming.
Chances are you've heard the Hebrew phrase, "mazel tov," commonly used to express congratulations. The word mazel translates to "a drip from above," meaning a blessing or luck. Beverly and Alan feel so lucky to have found the perfect rescued dog to share their hearts and home. They immediately agreed upon his new name: Mazel.
Wishing you many years of health and happiness together!