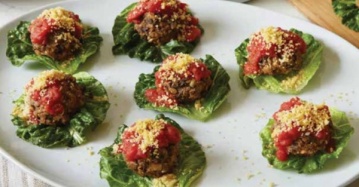 These bean-and-rice-based "meatballs" are easy to make, and can be prepped right up to the baking step a day ahead of time, and stashed in the fridge until you're ready to bake them. While they're in the oven, prep the romaine leaves, mix up the cashew crumble topping, and heat the marinara, so you're ready to assemble as soon as the meatballs come out of the oven. To make this recipe gluten-free, use certified gluten-free oat flour, and be sure the marinara sauce you buy is free of gluten.
INGREDIENTS

• ¼ cup sun-dried tomatoes (not oil-packed) (about 4 to 5 halves)

• 1 medium onion, diced (2 cups)
• 8 ounces mushrooms, diced (3 cups)
• 6 cloves garlic, minced

• 1 tablespoon finely chopped fresh sage
• 1 15-ounce can white beans, rinsed and drained (1½ cups)

• 1 cup cooked brown rice

• 2 tablespoons flaxseed meal
• 2 tablespoons oat flour
• 1 tablespoon white wine vinegar
• Sea salt and freshly ground black pepper, to taste

• ¼ cup raw cashews

• 2 tablespoons nutritional yeast

• 1 teaspoon white miso paste

• 1½ cups purchased oil-free marinara sauce

• 12 to 16 leaves romaine lettuce
INSTRUCTIONS
1. In a small bowl, soak the sun-dried tomatoes in ½ cup hot water for at least 20 minutes. Drain and finely chop tomatoes.
2. In a nonstick skillet, combine the onion, mushrooms, garlic, sage, and ¼ cup water; cook on medium heat for 15 minutes, stirring frequently to prevent vegetables from sticking to pan.
3. Add the sun-dried tomatoes, beans, rice, flaxseed meal, oat flour, and vinegar. Mix well, season with salt and pepper, and cook for 2 to 5 minutes more. Remove from heat and let cool for 10 to 15 minutes.
4. Use a potato masher or large fork to mash the meatball mixture into a cohesive texture.
5. Preheat oven to 350°F; line a baking sheet with parchment paper. Scoop out 2 tablespoons of mixture, shape into a meatball, and place on the prepared baking sheet. Repeat until you have 24 meatballs. Bake for 20 to 30 minutes, until nicely browned on top.
6. For cashew crumble topping, combine cashews, nutritional yeast, and miso in a mini food processor. Pulse to a crumble.
7. Using a 2½-inch cookie cutter, cut the romaine leaves into 24 rounds.
8. When ready to serve, warm the marinara sauce. Place each meatball on a romaine round, top with 1 tablespoon warm marinara, and sprinkle with cashew crumble. Serve right away.