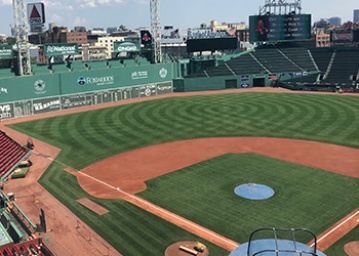 It's always fun – especially in the dead of Summer – to recall cooler, pleasant afternoons and evenings spent listening to your favorite radio or television broadcaster paint a vivid picture of a day at the ballpark. These ambassadors of the game were not just passing through, no modern-day migrants were they; no, they would regale the listener/viewer with the day's sights and sounds, even if you had a local telecast. Hard as it may be to believe, a home team's game being televised might have been a once a week happening – that all changed with the advent of cable, and now streaming services. But those icons of the microphone proved to be invaluable assets to their respective franchises. They were stars, sometimes as much if not more than the players. Scully, Allen, Barber, Harwell, Buck, Thompson, Brickhouse, Prince, and Caray were larger-than life personalities, men who would broadcast to millions, but still brought the game to you in a personal way.
Just as important as the voices of the game were the locales from which they broadcast. Remember, radio (and TV to a lesser degree) was in its infancy, so a lot of improvisation had to be utilized to paint a full picture of the game. When Vin Scully, Phil Rizzuto or Chuck Thompson told you about Dodger Stadium, Yankee Stadium or Memorial Stadium, you felt as if you knew each outfield corner, each baseline, and each ballpark dimension. Funny thing is, once you actually laid eyes on the place, you would do a conscious checklist to see if what you were told all those years was actually true, and for the most part, it was.
Now, having been to a fair number of these places (many of which no longer exist), I can report which ones excelled – and which ones left much to be desired.
By my count, I've visited (not including minor league parks) 23 stadiums, give or take a few. Each has its own civic identity or history. Some I have not seen but I want to: Cincinnati, and Pittsburgh both have wonderful reputations; so does Progressive Field in Cleveland. It replaced the old Cleveland Municipal Stadium, whose nickname "The Mausoleum" was justly earned. I've not been to the new parks in New York, but was fortunate to have patronized their predecessors.
Same is true with Houston, Atlanta and the White Sox. Some of those places are bucket-list trips – some are not. Sorry, not dying to visit Phoenix or the new ballpark in Arlington, and unfortunately the visit to Tropicana Field in Tampa lived down to its reputation as a haven for tractor pulls but not baseball.
The best? Fenway, Wrigley, Camden Yards and Dodger Stadium rule the roost (I know, big surprise). But I also treasured my visit to the Houston Astrodome and marveled at its architectural vision. Best food? Surprisingly, Anaheim Stadium, where not only was the cuisine delicious, the floors were so clean you could eat off them (not recommended).
So, if you've been putting off that baseball trip, don't wait any longer. Make your plans, compile your own list, and compare it to mine. But don't wait too long, as these sports pantheons will not be there forever.
Play Ball!