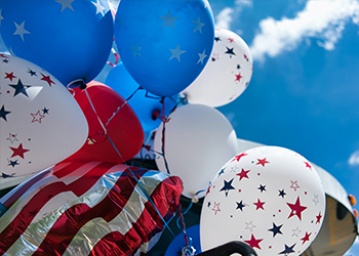 For the month of July, we salute the brave men and women who protect and defend our freedoms.
Thanks are not enough for your service, your commitment and putting your lives on the line. Whether you serve in the military, police, fire, EMT or healthcare. Whether you're teaching our children, mentoring our youth, or moving society in a meaningful way, we salute you and honor you.
July represents Independence Day, when we celebrate our nation's freedom. Let's pledge to do more for our fellow citizens, showing random acts of kindness, and sharing love and light, in the pursuit of happiness.
So, how's this relate to clearing clutter? Let's focus on freedom. In your home, office, storage unit or car, you may have what I call TMS (Too Much Stuff). How do you know?
When things are not organized; you have trouble finding basic items like keys, wallet, glasses and phones; when you look at the same piles of papers week in and week out, you've got TMS!
Ridding yourself of TMS goes a long way in finding freedom. You know that "stuck feeling" that hangs over you as piles of laundry await your attention, books stack up on a shelf, dishes pile up in the sink, and you find yourself overwhelmed, under-stimulated and distracted.
This JULY, celebrate your personal FREEDOM. Open the windows, let more light in, run around on the lawn barefooted, make a child smile. Then, let's get down to business.
My S.M.A.R.T. system is a proven way to effectively clear yourself of clutter. Here's how it works: S. Start Simply – Take on an easier task, like one junk drawer, or perhaps your linen closet? By building momentum, you'll surely succeed further in the task of decluttering.
M. Mindset – Get in the mood, put on some music you love, get a favorite beverage in hand, and wear comfy clothes and shoes. Your mindset leads to enjoying the experience.
A. Action – Begin with having the following tools on hand. Black garbage bags for discards and garbage. White garbage bags for donations. Cleaning spray, paper towels or rags, and a broom, mop or vacuum. Then, if we choose a junk drawer to start, empty that drawer completely, clean and wipe, and then start sorting what you want and need to keep. Donate or trash those old screws, keys, leaky pens, and broken twist ties… bye bye!!! Taking action can be thwarted by two things: 1. Procrastination and 2. Indecision. Follow my steps, and you'll get into Action more easily.
R. Reuse, Repurpose, Recycle – One key benefit of organizing when you have TMS is the liberating feeling of freedom you get by donating unwanted items that no longer serve you. Donating helps others less fortunate, elevating their vibration and sending a ripple effect of love. The more you donate and let go of, the more free you will feel (with virtually instant results!)
T. Transformation – Once you've STARTED SIMPLY, with the right MINDSET, taken ACTION and REPUR-POSED your space, you will, I assure you, feel TRANSFORMED. Ultimately, you see that you are in control, in charge, making decisions, and not letting "things" "run" you, but that you "run" your "things." As a result, you can focus more on other areas of living. Family, career, retirement, and the environment for example. Your transformation is a result of taking charge of your home and office spaces. And the good news is that transformation stays with you, when you maintain the home and office spaces in a neat, orderly, spacious way.
That's my July freedom message.
Want assistance? We are just a text or email away. Call David Hall, CCCO (Chief Clutter Clearing Officer) of A Clutter Clearing, 561-706-7779.
Wishing you peace, joy, love and freedom this July and every day!!!
CLEAR THE CLUTTER… CLEAR THE MIND™