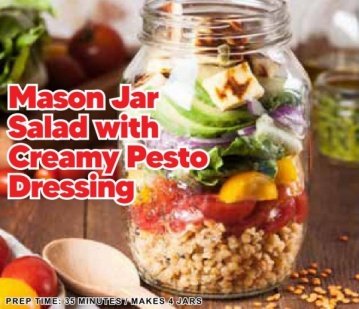 Mason jar salads are a great make-ahead meal to enjoy at home or on the go. A creamy pesto dressing anchors layers of rainbow veggies and hearty grains for a portable meal that will satisfy your cravings for fresh produce. Feel free to switch it up with whatever greens, grains and toppings you have on hand! Just add a lid, and it will keep well in the refrigerator for up to three days.
Tip: For the dressing, soak cashews in very hot water for 15 minutes. Drain the water and rinse the nuts before blending with the rest of the dressing ingredients.
INGREDIENTS

• ½ cup soaked raw cashews (see tip in recipe intro)

• cup loosely packed fresh basil leaves

• 1 clove garlic

• 1 tablespoon nutritional yeast

• ¼ teaspoon onion powder
• ¼ teaspoon sea salt
• cup unsweetened, unflavored plant based milk
• 6 cups fresh baby spinach

• 4 cups cooled cooked wheat berries
• 2 cups cherry tomatoes, halved

• 1 medium summer squash, quartered lengthwise and cut into ½-inch slices

• 1 cup shredded carrots
• ½ cup chopped red onion

• Sea salt and freshly ground black pepper, to taste
INSTRUCTIONS
1. For Pesto Dressing, in a small blender or food processor combine the first six ingredients (through sea salt). Cover and blend until smooth, gradually adding plant-based milk. Dressing will be thin.
2. In four 1-quart wide-mouth Mason jars, pour a few tablespoons of dressing into the bottom. Then layer starting with spinach through chopped onion and in the order given. Season with salt and pepper.
3. Toss gently before eating by turning jar back and forth.