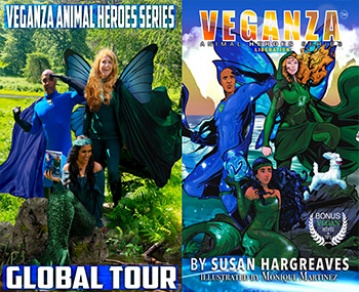 Imagine my surprise when, before the planned launch of my new novel, "Veganza Animal Heroes," we debuted at Number One in new releases for young adults and ecology on Amazon!
England
This news launched me on the start of the world tour in an optimistic mood. The global Veganza Animal Heroes Book Tour was off to a great start! I met Freedom aka Korin Sutton, Courage aka Mitali Deypurkaystha, and Sean Russell aka the producer in London. It was the first time we were all together in our superhero costumes and ready to veganize the world!
The trifecta of Veganza Animal Heroes read the liberation of the captive orca – named by her captors Lolita – at the massive Just V show at the Excel Convention Center designed to attract pre-vegans.
Then I was off to Hebden Bridge, West Yorkshire, to the former chick hatchery building I was taken to at nine years old. I wonder if you, the reader, could guess what I saw there. The cruelty I witnessed fueled my determination to stop animal abuse. I was thrilled to return 54 years later as Veganza to empower youth at the school based at the former hatchery! All of the children saw me arriving outside in the parking lot, and ran to the window shouting, "It's a real fairy with wings!"
Ireland
A major news outlet in Ireland covered our next global tour stop – please see the Dublin Live news article photo.
We were ferried to the Dublin SPCA by Gillian Bird, their education director. They care for all species of animals in the idyllic Wicklow mountains. We arrived bearing a vegan picnic lunch from the Happy Pear Café for the summer campers to enjoy. The children and teens were entranced listening to the three Veganza Animal Heroes inspire them to become heroes themselves.
The legendary Happy Pear brothers read their part of the book, where they help Veganza make Ireland truly green when Veganza flies to Ireland. Check out the Happy Pear to see these engaging twins offer the best vegan recipes and treats.
We reenacted the poses on the front cover in front of the Powerscourt waterfall in County Wicklow, before going to Cork to speak at the Kindness Spirit conference.
United States

Veganza then flew to San Francisco and met the artisan vegan cheesemaker, Miyoko. It was great to read the "Veganza Animal Heroes" picture book story to young children at the Mindful Eating Film Festival.
It was the first time I met Monique Martinez in person – she's the talented self-taught artist who magically makes the world of Veganza come alive with her illustrations.
All in all, it was a very effective first-of-its-kind vegan superheroes book tour. The hardcover and paperback versions are available on our site and on Amazon.
100% of the book profits support the vital education work of the Be an Animal Hero campaign by AnimalHeroKids.org