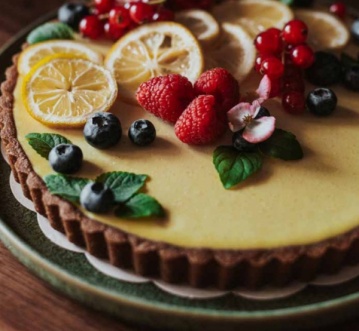 With benefits ranging from smoother skin and fighting inflammation to reducing the risk of heart disease and cancer, plant-based foods, and even more fun… DESSERTS, are worth a try!
The easiest, and most obvious are, of course, right from the earth. Fruit is nature's candy. Eat it plain, or jazz up a bowl of mixed berries with some plantbased whipped cream!
Vegan Whipped Cream Recipe
1. Drain 1 can of chickpeas into a large bowl (reserve the chickpeas for another use).
2. Add teaspoon cream of tartar to the liquid and begin to beat with a hand mixer.
3. Continue mixing for about 3-4 minutes, until peaks form.
4. Add ½-¾ cup powdered sugar, and 1 teaspoon vanilla extract.
5. Continue mixing until fluffy and smooth (about 1 more minute).
The whipped cream is best served immediately, as it does not stand up well in the refrigerator; however, it does freeze well! (recipe thanks to Nora Taylor at noracooks.com)
If you love chocolate, gluten-free vegan brownies are for you:
Plant-Based Brownies (Glutenfree) Ingredients
• 1/4 cup unsweetened applesauce

• 2/3 cup cocoa powder
• 1/2 cup gluten-free flour

• 1/4 teaspoon sea salt

• 1/4 teaspoon baking powder

• 1/2 cup organic cane sugar
• 2/3 cup pureed cooked sweet potatoes

• 1 1/2 teaspoons vanilla extract

• up to 1/2 cup plant milk, start with 1/4 cup

• 1/2 cup vegan chocolate chips
Directions

6. To bake, preheat the oven to 350° and lightly spray an 8 x 8 pan.
7. Put all of the ingredients except chocolate chips in a large mixing bowl. Stir until everything is mixed well, adding more plant milk if needed.
8. Fold in chocolate chips, reserving a few spoonfuls. Spread the batter smooth and sprinkle the reserved chocolate chips on top.
9. Bake for 35 to 40 minutes (toothpick will not come out clean).
10. Allow to cool before cutting.
Recipe thanks to Holly Yzquierdo at Myplantbasedfamily.com (direct link to this recipe: https://myplantbasedfamily.com/2013/04/17/brownies/ )
Finally, with Autumn right around the corner, who can resist pumpkin pie? Try this plantbased alternative:
Plant-based Pumpkin Pie Recipe
Ingredients

• 4 cups pureed pumpkin, unsweetened
• 2/3 cup coconut sugar or organic brown sugar

• 2/3 cup maple syrup or agave nectar

• 3/4 cup almond milk – I tested this with plain soy milk, almond milk, and coconut milk

• 4 teaspoons pumpkin spice mix (a mix of ground cinnamon, nutmeg, ginger and cloves)

• 1/4 teaspoon fine sea salt

• 4 1/2 tablespoons cornstarch or arrowroot starch

• 1 teaspoon vanilla extract

• 1 vegan pie crust, store-bought (or find a plant-based recipe online if you're really feeling your inner pastry chef!)
Directions

1. Preheat the oven to 350° F. Prepare a pie crust in a pie plate.
2. Add all ingredients, including the drained pumpkin puree, plant milk, brown sugar, cinnamon, ginger, nutmeg, cloves, salt and cornstarch to a blender, and blend until very smooth. You may also simply whisk it together in a bowl until smooth.
3. Pour the mixture into a 9-inch pan lined with a pie crust. Use a vegan store-bought vegan pie crust, my Vegan Pie Crust, or find a vegan recipe online if you're feeling your inner pastry chef! Spread the mixture evenly with a spatula.
4. Bake for 55-60 minutes. The middle will still look jiggly – that's normal. Let cool at room temperature for 30 minutes, then cover and transfer to the refrigerator to chill for at least 4 hours or overnight. (recipe thanks to Gus and Joaco at ourplantbasedworld.com)
Bonus points: add the plant-based whipped cream above!
http://roseyshades-onthebrightside.blogspot.com/
Jonna Shutowick, M.S. Ed. is a high school history teacher for the Palm Beach County school district. She has created a character named Rosey Shades TM, whose philosophy teaches students about the importance of choosing optimism over pessimism by asking, "What color are the clouds in your world?"