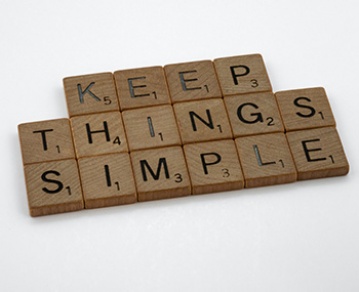 If you're like me, you're shaking your head saying, "Where did the time go?", "Can you believe it's October already?"
Time, does indeed, fly by…. So this month's column is dedicated to: TAKING TIME. TAKING TIME to enjoy yourself, your loved ones, your community, and your planet. TAKING TIME to smell the coffee, smell the roses… smell SOMETHING!!!
What's this got to do with decluttering? PLENTY – it turns out.
Why do we accumulate clutter, even if we know that it is a distraction, a chaotic choice between too much stuff (TMS) and creating order in the home, office, garage and storage facility?
TWO FACTORS THAT CAUSE CLUTTER
1. PROCRASTINATION – "Why do it today, when I can put it off till tomorrow, and tomorrow, and next week, next month, next year?" Clutter accumulates, so the delay in taking matters into your own hands has consequences. Bills pile up, the closet overflows, expired food gathers in the pantry, and the garage turns into a storage dump!
PROCRASTINATION makes matters more cluttered.
2. INDECISION – "What do I do with…" …the mail, bills, clothing, garage, wires, those trophies, CDs, VHS tapes and so forth? By waffling on concrete decisions, we find ourselves overwhelmed with choices. "Should it stay or should it go now?" When in doubt… throw it out!
INDECISION freezes us into inactivity, creating anxiety.
These two factors are the leading cause for clutter, disorder, chaotic organization and leaves us feeling helpless, overwhelmed and out of control. What to do, what to do?
GET S.M.A.R.T. I've created a system that leaves you feeling relief from that overwhelming, out of control feeling. Try my proprietary S.M.A.R.T. system to organization:
S – Start Simply – Decide TODAY, that you're ready for a change in habit and lifestyle. Start simply by clearing out the dishwasher, emptying the trash, and folding the laundry, for example.
M – Mindset – Get in the mood, shift your attitude by putting on music you love, pouring a favorite beverage, and getting into cozy, comfy clothes.
A – Action – At some point to CLEAR THE CLUTTER you will need to take ACTION. Start simply by getting black garbage bags for discarding unwanted items. Get white kitchen bags for donation items. By doing this, you'll have a system to reduce things in your home. Black = Garbage, White = Donate. Have a broom or vacuum, paper towels, and cleaning solution handy as well.
R – Recycle, Reuse, Repurpose – Remember that when you donate your unwanted things, you are doing a good deed for others. Recycling what no longer serves you to a donation group allows others to enjoy your gently used items. Kitchen items, gardening items, clothing, shoes, purses and the like. Give yourself credit for benefiting society by giving others a chance. When you clear the clutter and "find" items that were hidden, you get to repurpose and enjoy your possessions in a whole new way.
T – Transformation – When you've initiated my S.M.A.R.T. system, clearing the clutter results in a tremendous feeling of RELIEF, FREEDOM and HOPE of taking control of your space.
GET S.M.A.R.T. and begin to feel success under your belt. There's no time like the present!
If you have any questions, feel free to reach out. Got an idea, a hack, a challenge? Call David Hall (hey, that's me) at 561-706-7779 or visit us online at APlusClutterClearing.com
Remember, the choice of clarity over chaos is a S.M.A.R.T. choice indeed.
Clear the Clutter…Clear the Mind™