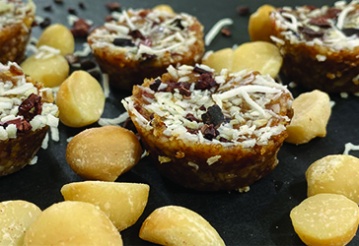 The vanilla' sugar and salt marry seamlessly into a butterscotch-like flavor in these healthy and easy-tomake blondies.
SALAD INGREDIENTS

• 1/4 cup coconut palm sugar

• cacao nibs

• 1 cup cashews (or macadamia nuts)
• 1 cup walnuts (or pecans)
• 2 tsp vanilla extract

• 1/8 tsp sea salt
• 3/4 cup pitted dates
PREPARATION STEPS
1. Combine nuts and sugar in a food processor.
2. Add the dates, one at a time, pulsing several times between additions, until each date is wellincorporated.
3. After the last date is incorporated, add the vanilla and a generous pinch of salt. Pulse several more times to distribute the vanilla and salt.
4. Transfer the mixture into minimuffin tins and fill only about 3/4 of each muffin mold, then use your fingers to pack mixture down tightly. Or you could just as easily form the mixture into a cake shape on a small plate! Just be sure to press it together very well so it doesn't fall apart.
Garnish with cacao nibs and coconut shreds and press them down a bit.